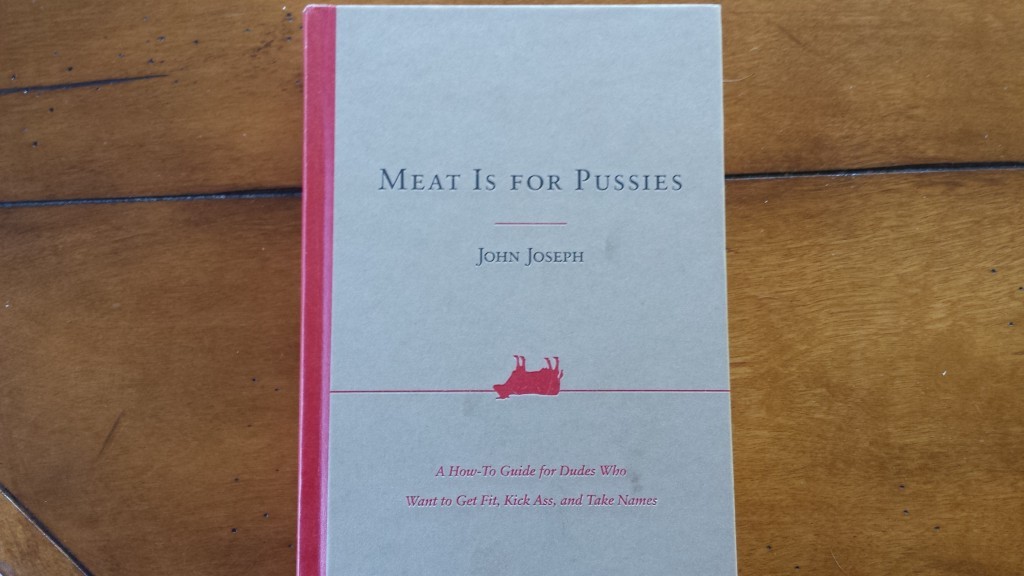 That's right. Meat is for pussies . . . well, according to the book's author, John Joseph. Joseph is the front man for the punk band, Cro-Mags, has been plant-based eating for 34 years, and is an Ironman triathlete.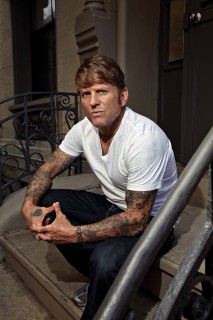 The cover may not be sporting the typical colorful photograph of the author preparing a veggie-packed meal in his or her immaculate farmhouse kitchen, but what the cover lacks, the contents make up for with colorful language. But this book isn't geared toward stay-at-home moms, tree-hugging hippies or your grandma; it's aimed at macho, "weight-lifter Neanderthals," who spend their days in the gym flexing and calling vegetarians and vegans "pussies." Like it or not, this is how a lot of men—especially in the fitness and gym world—talk to each other. "There are some preachy, judgmental vegans who attacked me for the title of this book," he writes. "In my eyes I think whatever starts the conversation and shows positive results is a good thing."
Joseph takes a no-holds-barred approach, lays it all out on the table, and tells it like it is. And I have to say, I absolutely love it. Over half of the book is dedicated to educating readers on the detrimental health impacts of eating animal products, the problems and issues associated with the food industry, and finally, fitness tips and workouts. Joseph also devotes the Appendix to discussing the environmental impacts of animal food production, calling out  "'environmentalist' celebrities [who] suport their cause by serving five-hundred dollar Kobe beef steaks at their fund-raisers." It's a superbly-written section that I think everyone should read.
One of the things I have to say I love about him, is that he shudders at being called the V-word . . . yep, V-E-G-A-N. But he has a great point. The word is often associated with "judgmental, self-righteous attitudes" toward meat eaters, or even toward celebrities who try a plant-based diet. I love when I read ". . . let's not forget the philosophy at the heart of a plant-based lifestyle, which is compassion for all beings, and that means humans included. You will not change anyone's heart if you agitate their mind with a  condescending attitude." He sums it up perfectly: "Let's drink our green juice, eat our lentils, and then move the fuck on. Let's convert people by showing them by example what badass motherfuckers they can be on a plant-based regime, and leave the judgment at the door."
Don't you just love this guy?!
Chapter 13 is where you'll find "Super Badass Recipes." Joseph offers lots of juice and smoothie recipes, breakfast ideas, as well as lunch and dinner options. In addition to his own recipes such as, Waffles or Pancakes with Fresh Mixed Berry Compote, and Ironman Stew, the book also features recipes from ultramarathoner and endurance athlete, Brendan Brazier; some renowned vegan chefs; and Rip Esselstyn.
Because Joseph's intended audience are gym-going, iron-pumping jocks, most of his recipes are high in protein. Many recipes feature Gardein products as well as soy-based products like tofu, yet none are short on fresh vegetables, herbs, and spices. I thought the Barbecued Tofu on page 202 sounded good, so I gave it a whirl.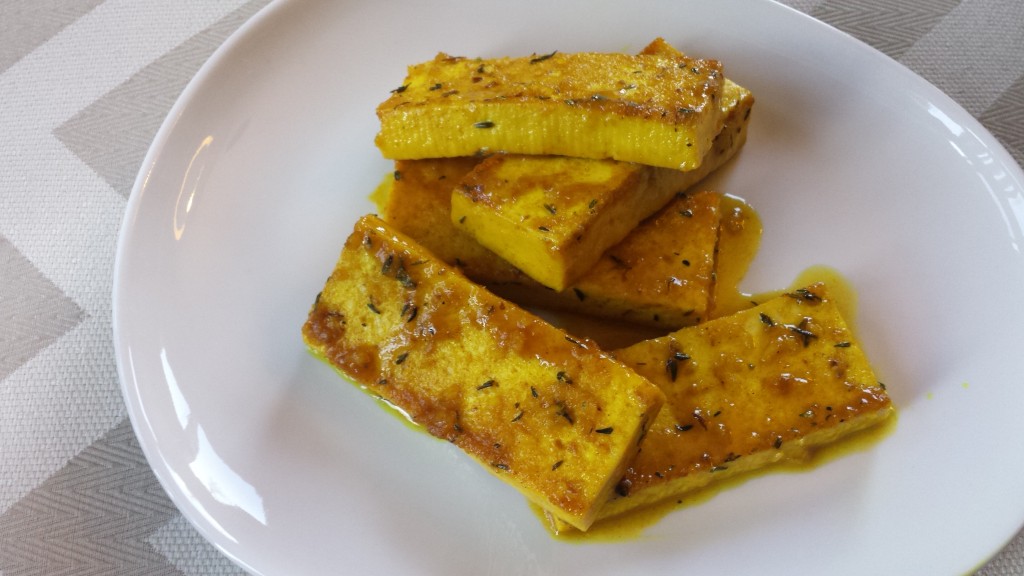 This dish was so easy to make and really delicious. To me, it doesn't have a BBQ taste, but rather a more sophisticated tangle of flavors due to the variety of spices such as ginger, garam masala, and pineapple juice. This is great for snacking on, making a sandwich with, or I think, chopping up into a salad.
All in all, I think this is a great book—and one that needed to be published. As the subtitle says, it's "A How-To Guide for Dudes Who Want to Get Fit, Kick Ass, and Take Names."  You don't have to be a dude to like this book. It's full of great information about nutrition, fitness and the environment, plus it'll give you lots of colorful ammo for the next time someone tells you that you need protein to build muscle. I think the book is well-written, entertaining, and incredibly helpful; Joseph's knowledge and expertise is clearly evident. You can find Meat is for Pussies on Amazon for around $15.
Disclosure: Although the cookbook was provided to me for free to review, that in no way influenced my opinion.