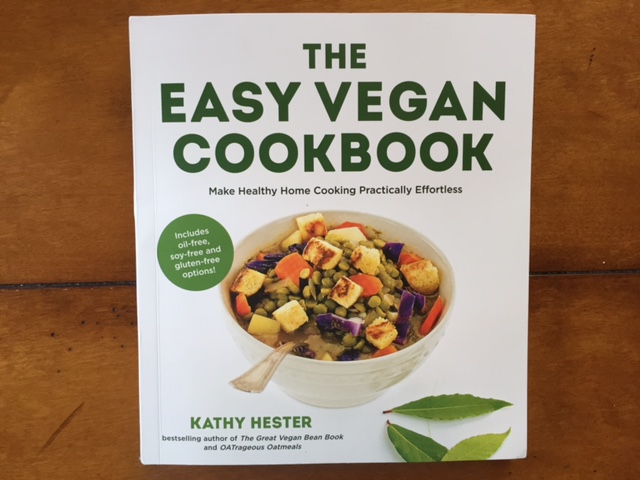 I recently got the opportunity to check out The Easy Vegan Cookbook: Make Healthy Home Cooking Practically Effortless, by Kathy Hester. I have Hester's vegan slow cooker cookbook, which I really enjoy, so I looked forward to checking this one out.
It's a beautiful cookbook. Nearly each recipe has an accompanying photo, which I really like. Pictures of the finished dish are always a draw, and of course, everything looks delicious.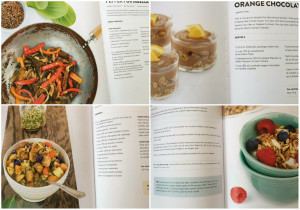 I think this is a great cookbook for new vegans, too. Hester made the recipes adaptable for different diets, such as soy-free or gluten-free, and offers great information on planning meals. She also gives readers lots of great tips on utilizing their freezer to make cooking and meal planning easier and more cost effective. I really appreciated this section because I find that I don't take advantage of my freezer nearly as much as I should.
Chapter one features 14 make-ahead staples such as Easy Homemade Bouillon, Almond Ricotta, DIY Golden Creamy Gravy, and Super Fast Enchilada Sauce. Chapter two consists of 10 amazing soups such as Autumn Harvest Noodle Soup; and Warming Lentil Soup. Chapter 3 offers 10 hearty stews. I'm eyeing the White Bean Kale Stew. Chapter 4 is all about pastas—10 recipes that include One-Pot Veggie Vodka Sauce Pasta; and Almost Effortless Lasagna. Chapter 5 features 11 Manageable Mains. I'd like to try the Holiday Stuffing Casserole, and the Carrot Kale Falafel. Stir-fries make up chapter 6, while chapter 7 is all about sandwich fillings and spreads. The Middle Eastern Chickpea Salad is on my list to try. Chapter 8 is called, Straight-Forward Sides and has recipes like Zucchini Masala Fries and Dreamy Greens. We finish up with Desserts and Drinks and the Salted Caramel No-Ice-Cream Milk Shake is calling to me!
So what did I make?
First up, the Carrot Cashew Chez on page 27.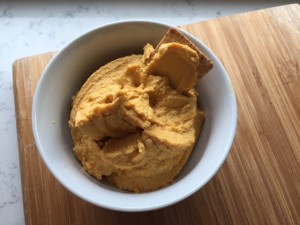 I love anything cashew chez, so I knew I wanted to make this. We really liked the flavor, texture, and consistency. However, both The Husband and I agreed that next time, I'd reduce the carrot a little. I'd also amp up some of the seasonings. It's great for a cracker spread, or dip, but I think it'd be great on toast or on a sandwich too.
Next, I made the Veggie "Potpie" Pasta on page 97.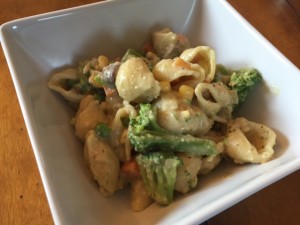 We definitely liked this dish. But because it does taste like a potpie, we were looking for the flaky pie crust. It just felt like it needed it, which I think would be easy to do with some puff pastry. I also felt it needed some more seasoning, but otherwise, a great dish.
I also made the Cuban Black Beans Over Coconut Rice on page 63.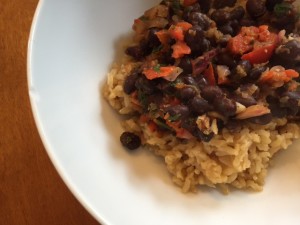 An amazing dish! Loved it. And so easy to make. The rice takes 30-40 minutes, but the rest is so simple. We really loved the flavors and the heartiness of the coconut brown rice.
Lastly, I made the Surprise Walnut Brownies on page 179.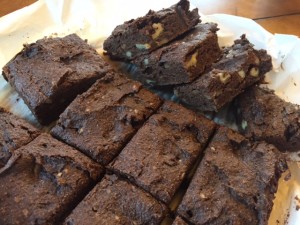 These brownies require 2 avocados which is fantastic, so no need for added oil. I did however, find them to be a little dry. The recipes says to cook them for 30-35 minutes, warning not to overcook them. I went with the 30 minutes, but they still were a tad on the dry side. I wrapped them up in parchment and put them in an air tight container and after a day, I was surprised to find that they weren't so dry. They're very tasty, but I think they'd be perfect with a scoop of cashew ice cream on top! Oh yes, I'll be picking up some ice cream later.
The Easy Vegan Cookbook has some unique recipes that are definitely simple to make. I think it's a great cookbook for those starting out with the vegan diet. I liked that I had most of the ingredients at home already, so I didn't have to go out of my way to find a bunch of items. I like having a cookbook I can rely on for quick and simple recipes that can also be tweaked here and there. The book goes on sale today and is listed for around $12 now on Amazon. Overall, a great cookbook.
Disclosure: Although the cookbook was provided to me for free to review, that in no way influenced my opinion.