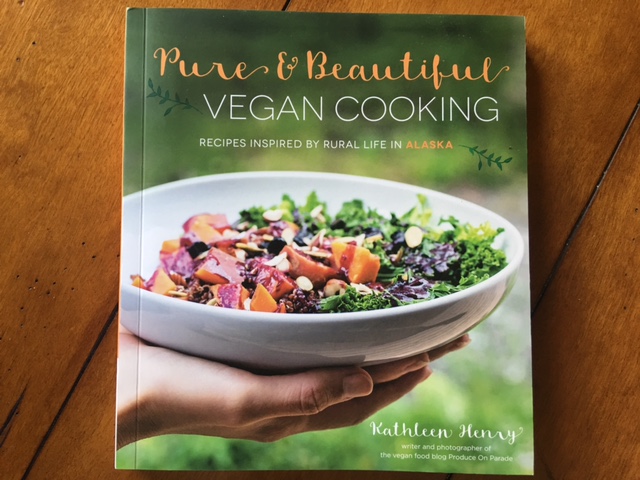 I am convinced that vegan cookbooks are truly the most beautiful cookbooks around. Filled with gorgeous photography of colorful fruits and vegetables, vegan cookbooks are the ultimate in food porn. Pure & Beautiful Vegan Cooking: Recipes Inspired by Rural Life in Alaska by Kathleen Henry (even her name invokes a sense of tranquility) is no exception. You may know Kathleen from her blog, Produce on Parade. As Kathleen points out in the introduction, you may not find vegan cooking synonymous with living in Alaska, but as it turns out, it isn't that difficult. Despite the short growing season and limited access to certain ingredients, Alaska offers plenty of fruits, vegetables, grains, and other staples of a vegan diet. And the recipes prove it can be done quite deliciously, too.
In the cookbook, you will find recipes for Mornings; Afternoons; Evenings; Snacks, Sides & Salads; Bakery; Sweets; and Drinks. Every other page features a beautiful photo of either food, or life in Alaska.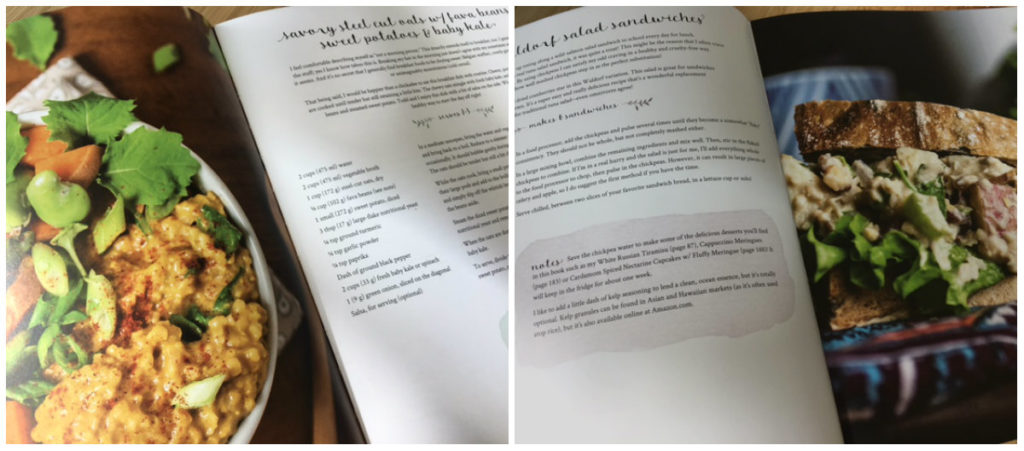 So here's what I tried.
Red Wine Minestrone w/Chard Pesto on page 106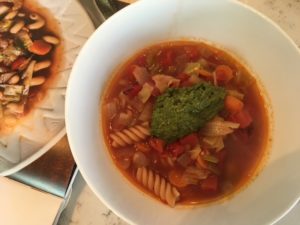 This soup, using cabbage, white beans, and pasta is flavorful and delicious. The chard pesto, however, makes it outstanding! I loved the pesto and used the leftovers on some pasta.
Broccoli & Tofu Pad Thai on page 105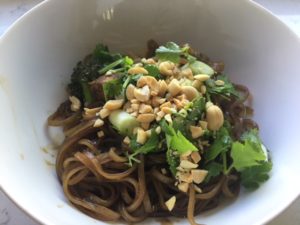 This easy-to-make Thai classic was delicious, although I found that it does get dried out quickly, so if you're looking for seconds, I suggest adding some water to the pot. Otherwise, very tasty!
Blueberry Thyme Lemon Bars on page 179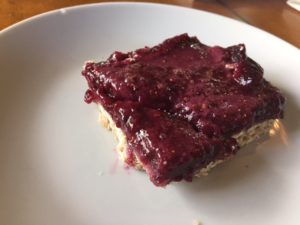 A hands-down winner. The tartness of the lemon mingles perfectly with the blueberry! And a breeze to make. The Husband remarked that these would be great paired with an Moscow Mule or a Lavender-Lemoncello cocktail on a summer night. Yep.
I also made the Garden Lasagna on page 74, but failed to get a picture because I made it for the guys ahead of time since I wouldn't be home that night for dinner. Rave reviews all around. The cashew ricotta is delicious and a great soy-free option.
There are a number of other recipes I'm anxious to try. I even have beets in my fridge for the Tahini Beet Pesto Pasta on page 78. I'm totally intrigued by the Savory Steel Cut Oats w/Flava Beans, Sweet Potatoes & Baby Kale on page 27, looking forward to trying the Lentil Chickpea Wraps w/Garam Masala Cashew Cream on page 58, and the White wine "Clam" Linguine on page 97 is calling my name!
I'm certainly impressed by how easy eating a vegan diet in Alaska can be! My only complaint (and this goes for most cookbooks, actually) is that because we now have two hungry 17-year-old boys to feed, the serving sizes for most of the recipes isn't quite enough. I will definitely need to double some of the recipes, or serve some as a side instead. Not a big deal and as I said, I'm finding that's the case with a lot of cookbooks these days. It won't deter me from trying more Pure & Beautiful recipes.
Available on Amazon for around $13.
Disclosure: Although the cookbook was provided to me for free to review, that in no way influenced my opinion.