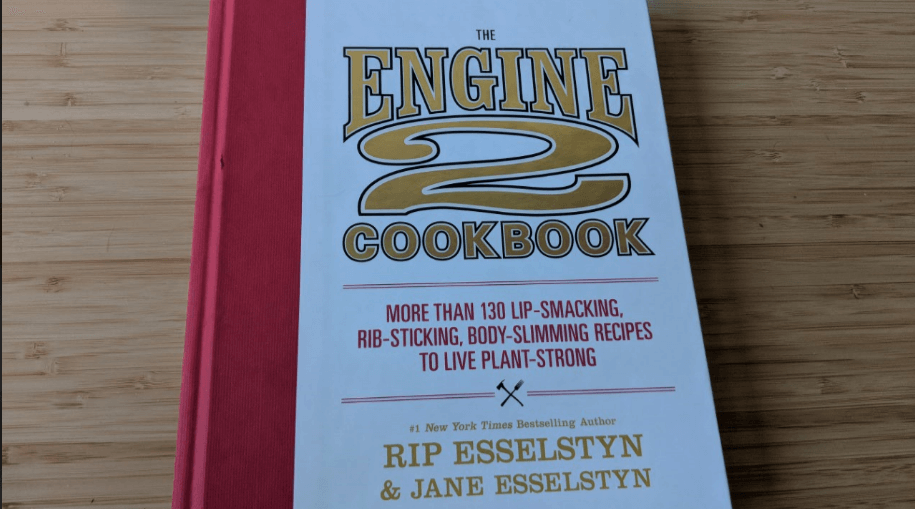 CONGRATS TO TIYA WHO WAS OUR RANDOMLY CHOSEN WINNER! Thank you to everyone who commented!
I had the opportunity to review The Engine 2 Cookbook by Rip Esselstyn and his sister, Jane Esselstyn. You probably recognize Rip Esselstyn as the former firefighter and triathelete featured in the 2011 documentary, Forks Over Knives. He is also the son of Dr. Caldwell Esselstyn, a plant-based physician and author.
So what's Engine 2? In 2003, one of Rip's co-workers at the Engine 2 station in Texas discovered he had high cholesterol, so Rip convinced the entire team to switch to a plant-based diet in order to help his colleague. And it worked. One chapter in this book is dedicated to discussing what's killing over 50% of firefighters a year. It's not fire-related. It's heart disease, something that can be reversed, with a "plant-strong" diet.
Chapter two covers the guidelines of The Engine 2 diet: no animal products and added oils, sweeteners, and sodium. It also gives readers the essentials for a plant-based kitchen from pots, to pans to produce to spices.
The book, which is full of high-quality photographs of many of the recipes, offers the following recipe categories:
Breakfast
Sauces, Spreads, Salsas, Dressings, Dips, and Hummus
Appetizers and Sides
Salads and Croutons
Soups and Sandwiches
Suppers and One-Bowl Meals
Desserts
I tried several recipes and I have to say, they were all delicious.
Folded Chickpea Omelets, page 50. Delicious! However, learning to flip the omelet without destroying it, is going to take some practice. The batch is said to make 2 large omelets, but I found that to be a bit too much. I think 4 smaller omelets is ideal. The Husband went rogue and made a scramble out of his. Overall, a winner. I'd make these again for sure.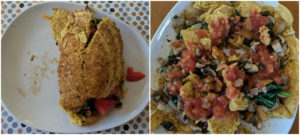 The OMG Walnut Sauce, page 57. It lives up to its name. Used it as a dip for crackers. So garlicky, but delicious and incredibly simple to make.
Thai Peanut Butter Sauce, page 64. I made this for a get together with friends and we enjoyed it with veggie dumplings. A big hit with everyone!
"Kale, Caesar!" Salad, page 136 + Sandy's Caesar Dressing, page 92. Outstanding! It's probably my new favorite Caesar dressing and the cooked onions are an excellent touch.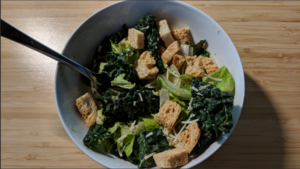 Green Lightening Bowl, page 199 + Lightening Dressing, page 91. Another flavorful winner. I really liked how easy this was to make and the dressing is tangy with some zip–perfect.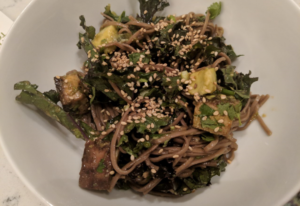 Mac-N-Cash, page 235. I made this version of mac-n-cheese with the broccoli, but not the optional collard greens. The flavor is really great and The Husband and I agreed, that the more we ate it, the more we liked it. We both also thought it would have been better to steam the broccoli first, not add it raw as the recipe says. It just didn't soften enough in the baking process. We loved the corn in it though–a fabulous combo with the pasta.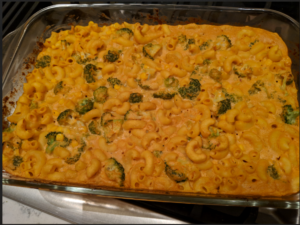 There are so many other recipes I'm anxious to try such as, Raspberry Pudding Crumble Parfait, page 253; Big Hit Waffles, page 32; Texas Armadillo Tater Tots, page 108; and Sweet Potato and Shiitake Soup, page 161 (to name just a few).
All in all, I highly recommend this cookbook. The recipes are accessible with easy-to-find ingredients, and will probably impress the pants off of any meat-eater. It is available on Amazon for around $18, but you can win one here!
Simply leave a comment by Sunday, January 21 and you'll be entered into a random drawing to win a copy of The Engine 2 Cookbook! Good luck!
Disclosure: Although the cookbook was provided to me for free to review, that in no way influenced my opinion.