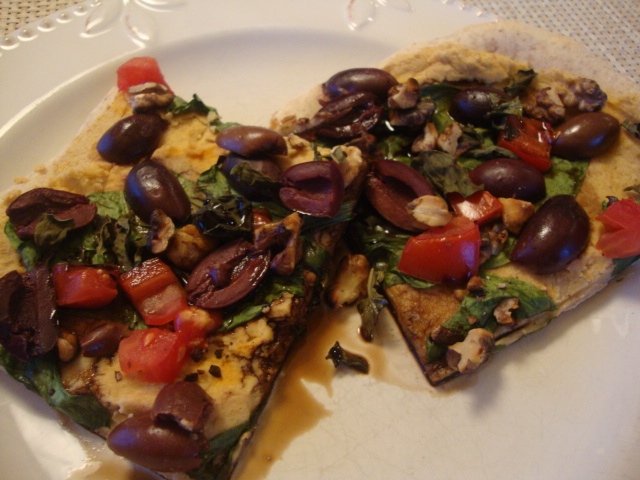 Being a vegan, you can say good-bye to pizza. Well…traditional pizza, that is. But…vegans say hello to healthier pizza. I had a similar pizza while in Estes Park, CO when we got away for Spring Break, so here is my version. The Kalamata olives are wonderful on this pizza and the Husband kept sneaking them while I was making this meal, so if they look sparse, it's his fault! Add some tofu feta if you'd like. Also, I strongly recommend using chopped fresh spinach–if using large leaves and you take a bite, it could be like pulling a tablecloth out from underneath a set of china and having it go horribly wrong. Chop it up.
INGREDIENTS:
2 C flour
1 C whole wheat flour
1 tsp salt
2-1/2 tsp yeast
2 Tbs olive oil
1 tsp dried rosemary
1-1/2 C hummus
1 C chopped fresh basil
3 C chopped fresh spinach
3/4 C chopped walnuts, toasted
1-6oz jar Kalamata olives, pitted and sliced in half
2 roma tomatoes, diced
Balsamic vinegar
DIRECTIONS:
Dough:
Preheat oven to 400.  In a large bowl, combine flours, yeast, salt and rosemary. Add 1-1/4 C of hot tap water and olive oil. Mix well and shape into a ball. Knead for 5 mins, then let rise in a warm place for 15 mins. Roll out the dough on a floured surface.
Grease a large baking sheet and place dough in it. (I did slice off a small section to make a separate pizza for the 5th Grader, so the one you see on the large pan below is minus that…this makes a good-sized pizza, so making smaller ones would work well). Stick dough several times with a fork and bake for 4 mins.On baked crust, spread hummus first, then layer spinach, basil, olives and tomatoes.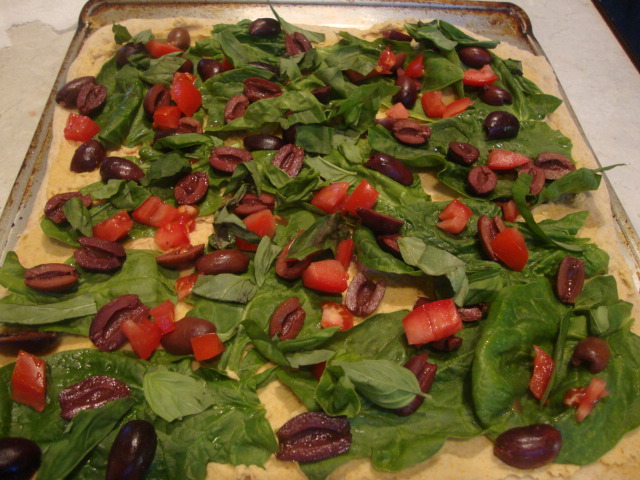 Bake again for 8 mins. Before slicing, add toasted walnuts.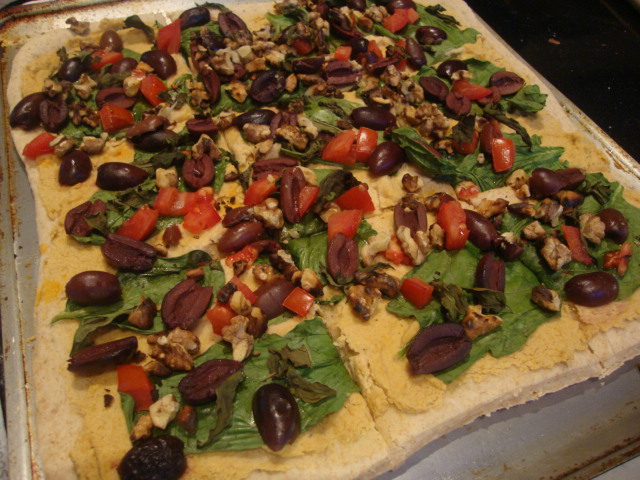 After serving, but before devouring, drizzle with balsamic vinegar. Enjoy!