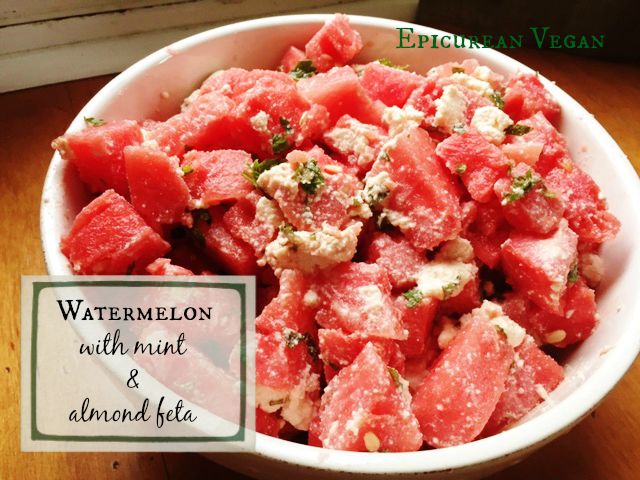 Did you know it's National Watermelon Month? Have you had some delicious watermelon recipes yet? This one couldn't be simpler. Of course, you will have to make the almond feta the day before, but it's extremely simple to prepare. I recommend keeping the watermelon cold and adding the almond feta to individual servings. You'll love the cold crispness of the watermelon mixed with the tangy almond feta—the perfect salad for a hot July day.
INGREDIENTS:
Almond Feta recipe
5-7 lbs watermelon, cut into chunks
1 C fresh mint, chopped
2 Tbs olive oil
4 Tbs lime juice
Salt and pepper
Arugula, optional
DIRECTIONS:
Make the almond feta at the day or night before (see link above). Make sure your watermelon is cold either before assembling the salad or before serving. In a small bowl, combine the olive oil, lime juice, and some salt and pepper, to taste. Pour over the watermelon and use a rubber spatula to gently mix the watermelon. Next, fold in the mint. When you get read to serve, you can scoop some watermelon on top of some arugula and then add some crumbled almond feta. Enjoy!
And since we're on the topic of watermelons . . . hop on over to Goodreads and enter in a giveaway to win one of five copies of Bobbing for Watermelons.