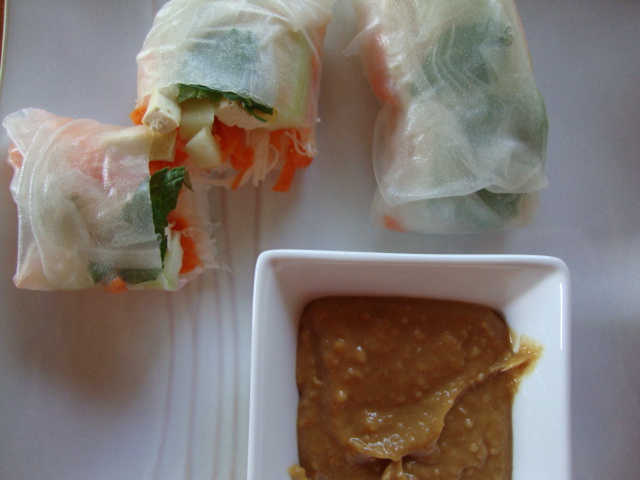 These have always been a favorite of mine and are great for a big crowd. I won't lie—there is a bit of prep work. Fortunately, you can chop up ingredients either earlier in the day, or even the day before. It also doesn't hurt to enlist some help. The recipe is inspired by The Vegan Table, but I deviated off her recipe a bit and made some changes. These are definitely worth the work and can be served as an appetizer or light meal (depending on how many you put away)! 😉
INGREDIENTS:
20 rice paper wrappers
8-oz rice noodles
14-oz extra firm tofu, drained, pressed and cut into strips
1 large cucumber, peeled and cut into strips
3 large carrots, peeled and grated
1 can water chestnuts (I steamed them for about 10 minutes, but that's optional)
1 cup fresh basil leaves
1/2 C fresh mint leaves
1 cup chopped peanuts
2 avocados, sliced thin (optional)
Peanut Dipping Sauce:
1/2 C peanut butter
1/4 C water
3 Tbs tamari soy sauce
2 Tbs lime juice
1 garlic clove, minced
1 Tbs ginger, minced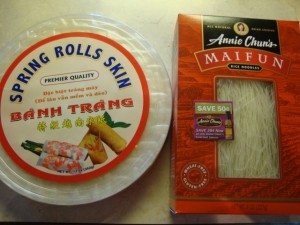 DIRECTIONS:
Saute the tofu in a pan with a bit of oil: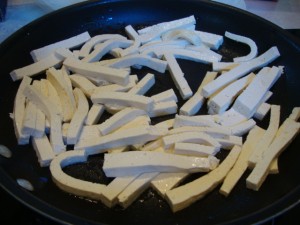 Cook noodles according to package instructions. Rinse with cold water. In a pie plate or other large plate, add some warm water and place a rice wrapper in it–let it absorb the water for about 30-45 seconds. Lay it onto a clean, dry surface and add another sheet to the plate of water so it's ready to go when you're done making the first roll.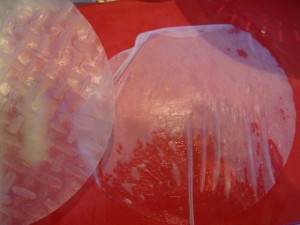 Layer on noodles, carrots, tofu, cucumber, peanuts, water chestnuts, avocado (if using), 2 small basil leaves, and one mint leaf.
I found that it's best to tightly fold over one side (top), then fold each side (on the left and right), then fold remaining side (bottom). Place onto a large platter. I got roughly 18 rolls.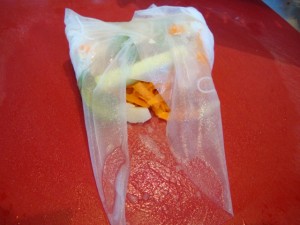 Peanut Dipping Sauce:
Blend all ingredients. I used a food processor. The sauce is a little thick for my taste, so I added some more water. I think it's easiest to spoon the sauce onto the rolls, otherwise, the innards will fall out. Slice in half to serve as appetizers or enjoy as they are!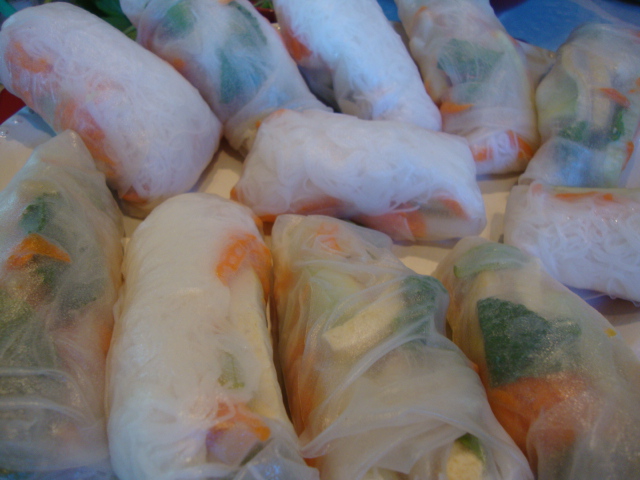 Sauce recipe: The Vegan Table