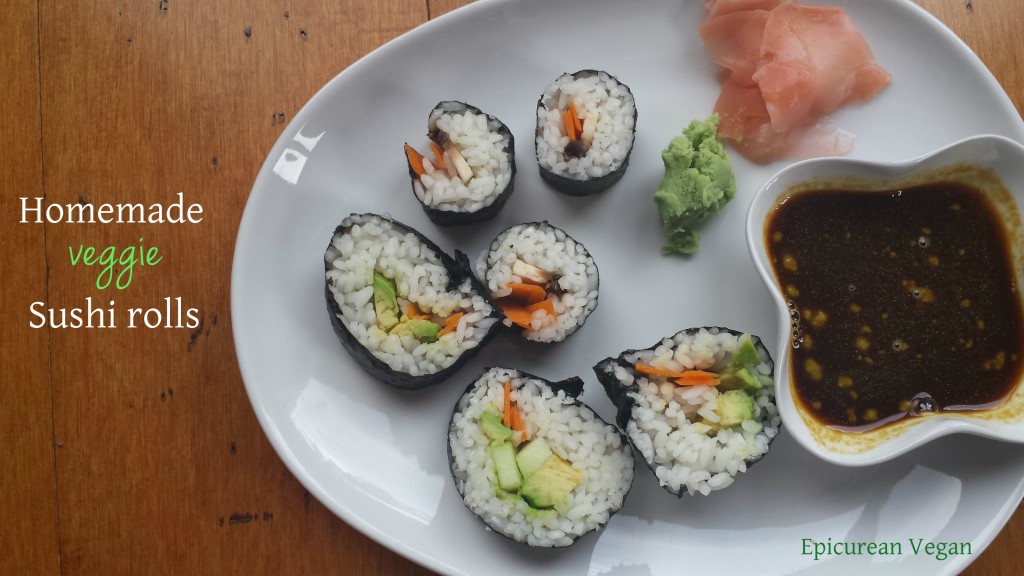 We love going out for veggie sushi rolls and after attempting to make them at home, we still love going out for sushi. It was certainly an experience and I'm sure those of you out there who can whip out a veggie roll and cleanly cut it into 8 beautiful pieces in ten seconds, are rolling your eyes right now, but I am happy to let you folks make my veggie sushi for now on. Here's what I learned:
Sushi rice is called "sticky rice" for a reason; It. Sticks. To. Everything. (Including feet. Yes, you will find it between your toes)
Sharp knives are a must, not the ones we've had for nearly 12 years and have been sharpened once (Yes, I'm taking them in this week)
The Tenth-Grader has WAY more patience and optimism than I, thank goodness.
Contrary to popular belief, making sushi is not a zen-full experience.
What You'll Need:
 Sushi rice
Nori (seaweed wraps)
Veggies
Bamboo rolling mat (helpful, but not imperative)
Jarred ginger
Wasabi powder/paste
Soy sauce or tamari
Small bowl of water with a splash or two of rice vinegar.
Patience, a good attitude and perhaps some saki.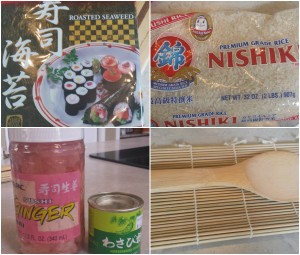 To begin with, the rice will take about 15 minutes. Going by package instructions, I combined 1-1/2 cups of water with 2 cups of rice to make 4 cups of rice (minus about 1/2 C that stuck to the bottom of the pan). This made about 5 rolls of a few good-looking and some very ugly rolls, varying in sizes. (As you may have guessed, this probably won't be the most precise method of making sushi rolls). Transfer the rice to a wooden bowl (that is important, but I'm not sure why).
As far as veggies go, we went with avocado, carrot, cucumber, and mushrooms. They don't have to all go on one roll; use whatever combo you'd like. I recommend using carrot peelings, unless you slice the carrot pretty thin, otherwise, it can be a pain in the butt to cut (especially if your knives are dull…) We found that the thinner things are sliced, the easier it is to pile the veggies in the roll.
To assemble . . .
Lay the bamboo mat out. To make small rolls, cut the nori sheet in half and place on the mat, shiny side down.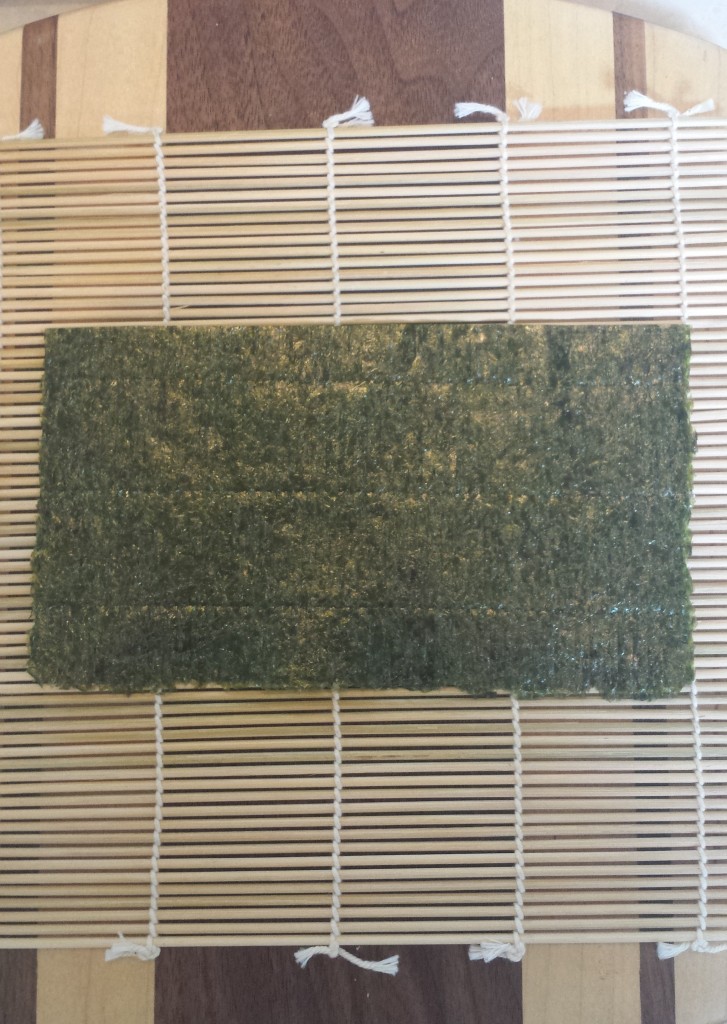 Wet your hands with some of the water/rice vinegar and grab a large handful of the rice. The water helps keep the evil sticky rice from overtaking your hands. Press it onto the nori, leaving about an inch at the top; layer the veggies down the center.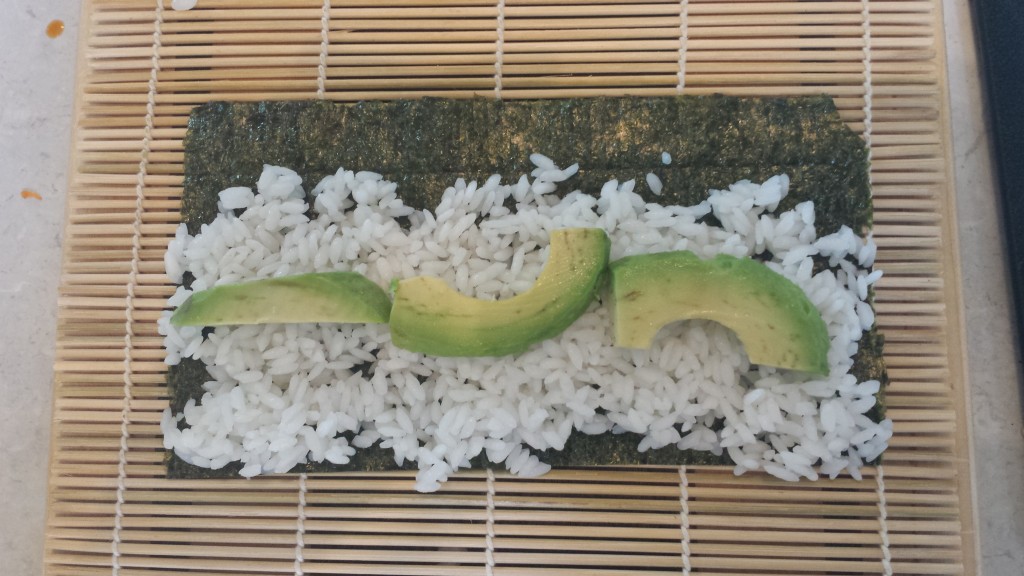 (You can certainly add a lot more veggies).
Next, from the bottom, roll the bamboo mat up and squeeze the roll as you go. (That is such a terrible description, but I think you'll figure it out). Very quickly, wet the top inch strip of nori, so that it will stick to the other end of the roll. This will all make sense when you try it. Hopefully, you'll end up with a decent-looking roll:


When cutting, we found that wetting the knife also helped to keep the rice from sticking to the blade. The serrated knife worked well. We also made a nice fatty roll:

(We probably could have used less rice and more veggies). We also attempted the rice-on-the-outside rolls . . .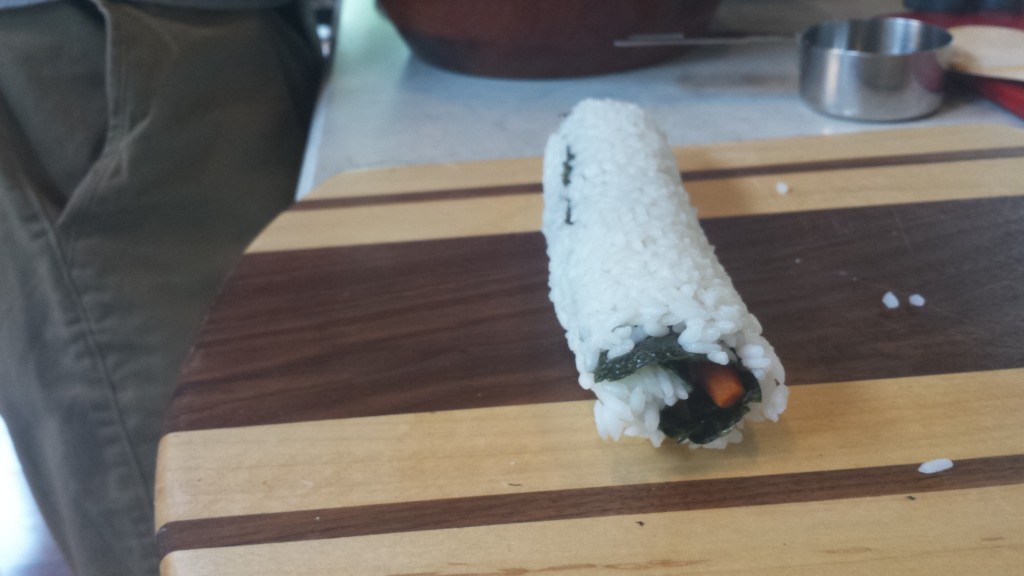 . . . but they were harder to cut.
Anyhow, we still ended up with some decent rolls. They weren't pretty, but they still tasted great.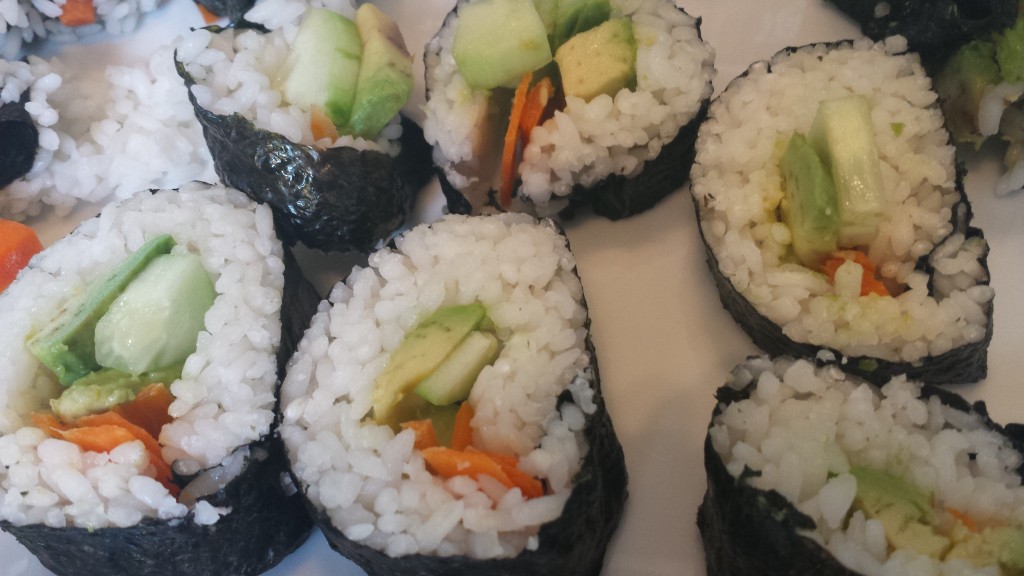 I love to mix about 1-1/2 tsp of wasabi paste with tamari or soy sauce, place a piece of ginger on the roll and dunk it all in the sauce. Delicious!! So I just might try this endeavor again (especially since I have half a bag of rice and several nori wrappers left). Any tip and tricks to making sushi is welcome, so let me know!