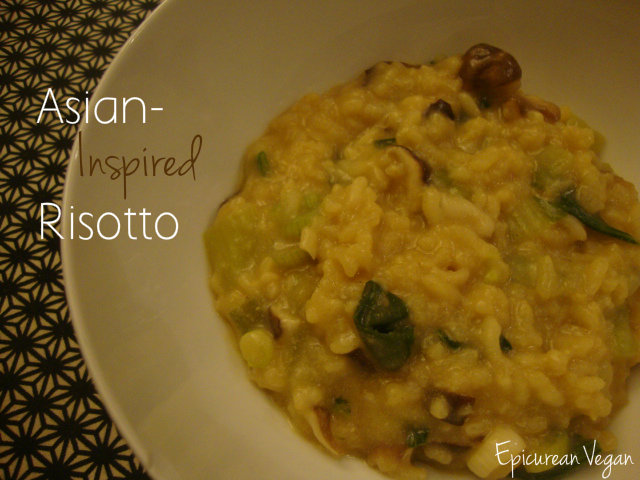 Yep, I'm still on my risotto kick. This time, however, I gave it an Asian twist by adding bok choy, shiitake mushrooms, and a touch of sesame oil (among other seasonings). This is a unique and delicious change from the usual risotto dish and would be great paired with some veggie crystal rolls. Yum!
INGREDIENTS:
4 C vegetable broth
1 Tbs red miso
1 C water
1-1/2 C Arborio rice
2 heads baby bok choy, chopped
2 C shiitake mushrooms, chopped
3/4 C green onion, sliced thin
1/2 C Sherry cooking wine
2 Tbs Earth Balance
1/3 C nutritional yeast
1/4 tsp Chinese 5-Spice blend
1/4 tsp sesame oil
1 Tbs tamari ( or soy sauce)
DIRECTIONS:
Preheat oven to 350. In a Dutch oven, whisk the 4 cups of broth and 1 tablespoon of miso; stir in the rice. Cover and bake for 45 minutes. Fifteen minutes before the rice is done, begin steaming the bok choy. Steam for 10 minutes, then add the mushrooms and green onion.

When the rice is done (most of the liquid has been absorbed), stir in the one cup of water,sherry and Earth Balance. Stir vigorously for 1-2 minutes—it'll thicken up. Next, add the nutritional yeast, five-spice blend, sesame oil, and tamari. Stir well for at least a minute. Fold in the bok choy mixture and enjoy!