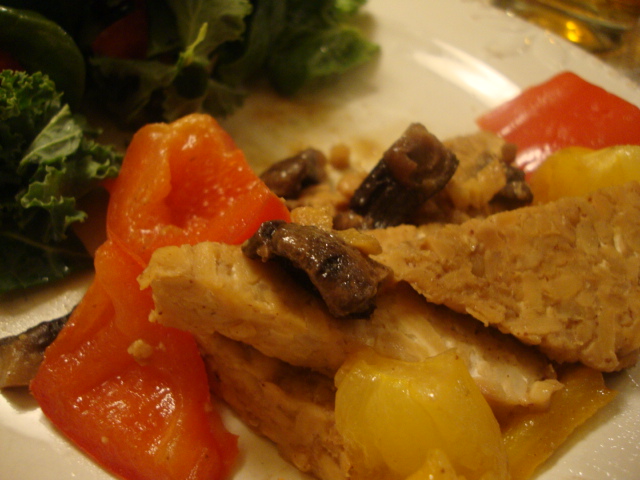 This is just a great basic marinade that would work with seitan, tofu, or even as a stir-fry sauce and takes no time at all to throw together.
INGREDIENTS:
8oz tempeh, sliced into 16 triangles
3 Tbs minced ginger
4 Tbs Tamari
3 tsp brown spicy mustard
3 tsp sesame oil
1 Tbs mirin
1 Tbs Ume plum vinegar
4 Tbs water
1/2 red bell pepper, chopped
1/2 yellow bell pepper, chopped
6-8 mushrooms, quartered
(asparagus would be good, too)!
DIRECTIONS:
Preheat oven to 350. Whisk together the ginger, tamari, mustard, sesame oil, water, mirin and vinegar in  small bowl. In a medium-sized baking dish, combine the tempeh and vegetables and then coat thoroughly with the marinade. Cover with foil and bake for 20 mins. Remove foil, stir the tempeh and veggies and cover again; bake for another 12-15 mins. If you have more time, marinate the tempeh and veggies in the refrigerator for about an hour before baking.