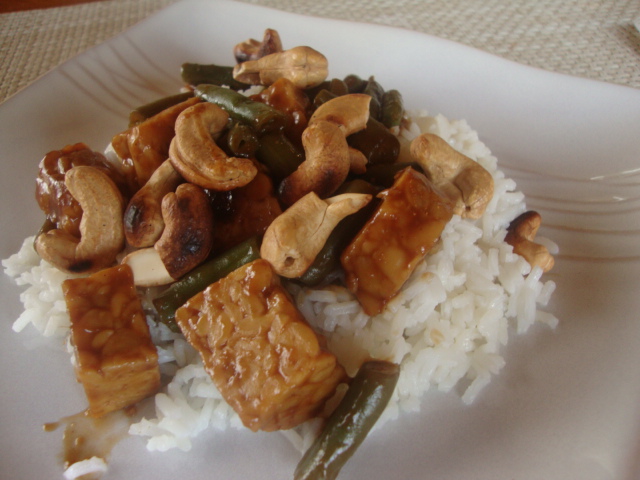 This is from Vegetarian Times and if you don't have a lot of time, it's a fast and easy meal. I made a few minor changes to the recipe like doubling the tempeh and sauce ingredients, plus I served it over rice that I seasoned with sesame seed oil and ground ginger. (I'll list the original recipe–decide for yourself if you'd like to double it). If you're not a big fan of tempeh, tofu would work great. The sauce itself is a great basic stir-fry sauce for any of your favorite stir-fry ingredients. I think mushrooms or bamboo shoots would have been a great addition to this recipe.
INGREDIENTS:
4 tsp hoisin sauce
2-1/2 tsp rice vinegar, divided
1 Tbs soy sauce or tamari
1 tsp cornstarch
1 Tbs vegetable oil
1-1/2 Tbs minced ginger
4 cloves garlic, minced (4 tsp)
1-8oz pkg tempeh, cut into 1/2″ cubes
1-12oz pkg frozen whole baby green beans (I used just 10 ounces of cut green beans)
1/3 C roasted, unsalted cashews (I used 2/3 and roasted them self in a dry pan over the stove–cheaper)!
1-2 C cooked rice seasoned with 3-4 splashes of sesame seed oil and 1/8-1/4 tsp ground ginger (Optional)
DIRECTIONS:
Whisk together hoisin sauce, 2 tsp rice vinegar, soy sauce, cornstarch, and 1/2 C water in a small bowl. Set aside.
Heat skillet or wok over medium heat. Add oil, then ginger and garlic. Stir-fry 1-2 mins or until garlic turns pale gold. Add tempeh and hoisin sauce mixture to pan. Stir to coat tempeh. Cover, reduce heat to medium-low and simmer 2 mins, or until sauce begins to thicken. Stir in green beans. Cover, and simmer 4-5 mins, or until beans are hot, stirring occasionally. Stir in remaining 1/2 tsp of rice vinegar. Serve topped with cashews.
Enjoy!