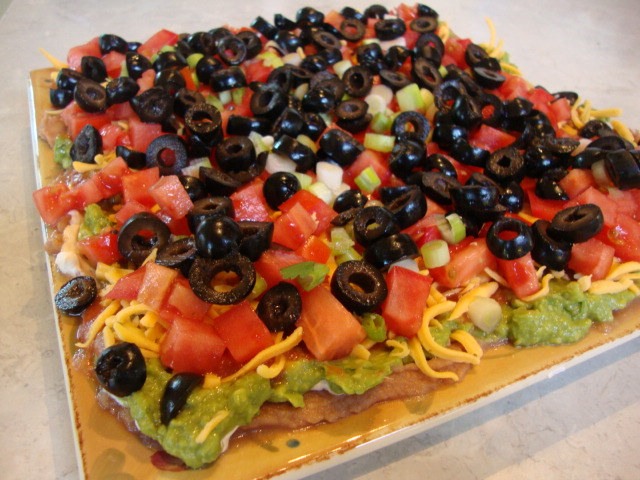 Who needs 7 layers when you can have 8? This is also much like my Soyrizo Layer Dip, but with minor changes. Always a crowd-pleaser, this dip is not difficult to throw together.
INGREDIENTS:
1 16-oz can vegetarian refried beans
1/2 C Tofutti sour cream
2 avocados, peeled and pitted
1/2 C salsa
1 large tomato, diced
3 green onion (white and green parts), sliced thin
1/2 to 1 C vegan cheddar, shredded
1 3.8-oz can sliced black olives
1 tsp garlic salt
1-1/2 tsp lime juice
1/3 C fresh cilantro, chopped
Tortilla chips
DIRECTIONS:
In a medium-sized bowl, smash up the avocado. Sprinkle with garlic salt, cilantro, and lime juice; thoroughly combine.  On a 8-9″ plate, layer on beans, sour cream, avocado mixture, and salsa. Next, layer on the cheese, tomato, green onions, and olives. This is would be a good time to admire the beauty of it, because it's gonna be gone as soon as the guests get one taste! Serve with corn tortilla chips (pita crisps would be good, too) and enjoy!