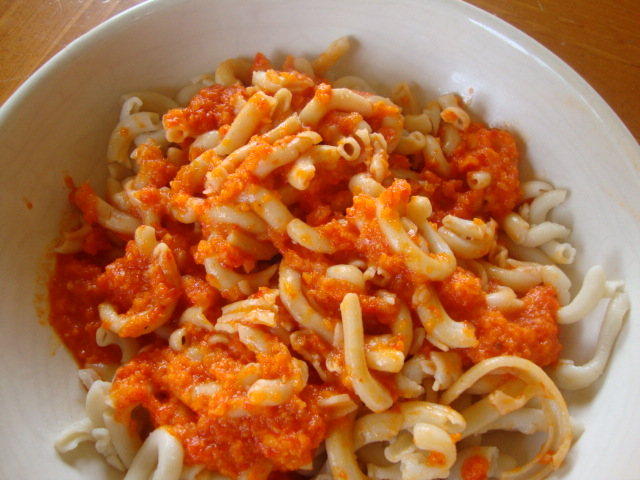 This recipe is from Vegetarian Times Quick & Healthy 30-Minute  Meals that I picked up at the grocery store. The recipe is actually entitled: Fusilli Bucati Lunghi with Roasted Red Pepper Sauce, but that's a long title, plus, you can use any pasta you'd like.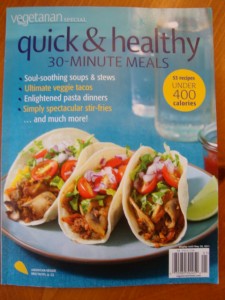 It's full of some really outstanding meals and I like that they're done in about 30 minutes (ideally). The Sixth Grader loves to cook so I've been having him help me in the kitchen as much as possible. For those of you with middle-grade kids, this recipe is a good one to let them do—that is, if you trust them with a sharp knife. 🙂 When the onions made him cry, he didn't let it detour him—a sure sign of a dedicated chef! There's some chopping of vegetables involved, plus some simmer time for the sauce, so this recipe definitely took longer than the 30 minutes the magazine claims. 45 minutes was more like it. Regardless, it was still easy and very delicious; something we'd make again. The kid got to partake in the full culinary experience, by not only cooking dinner, but cleaning up when he dropped the leftover sauce container and creating a quite a mess. Ah well, all part of being a master chef.
INGREDIENTS:
2 Tbs garlic-flavored olive oil (I just use regular olive oil and added 2 tsp of minced garlic)
1 C jarred roasted red peppers, rinsed, drained, and chopped
1/2 medium onion, finely chopped (you're going to puree this later—we just chopped it)
1 large carrot, finely chopped (Save yourself some time—especially when letting the kids help—and use the food processor)!
8-oz dry fusilli bucati lunghi (or any other pasta you'd like)
DIRECTIONS: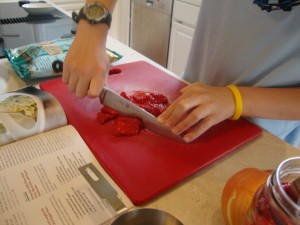 Look at him go . . . chop chop!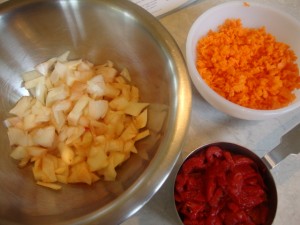 We'd still be in the kitchen if he had to finely chop the carrot by hand. I know it's an extra thing to clean, but use the food processor.In a large saucepan over medium-high heat, heat the oil (add garlic, if using). Add the peppers, onion, and carrot; saute 5 minutes. Add 3/4 cup of water, cover, and reduce heat to medium-low. Simmer for 20 minutes.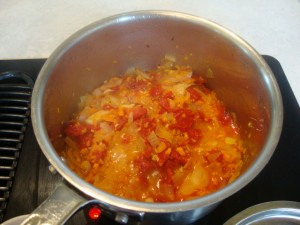 Meanwhile, cook the pasta according to package instructions. Remove the sauce from heat. The recipe says to use a hand blender to puree the sauce until smooth. Not having this handy appliance, I used the food processor. Season with salt and pepper, if you'd like.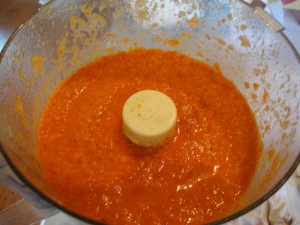 Drain pasta and add to saucepan with sauce. Toss well and enjoy!