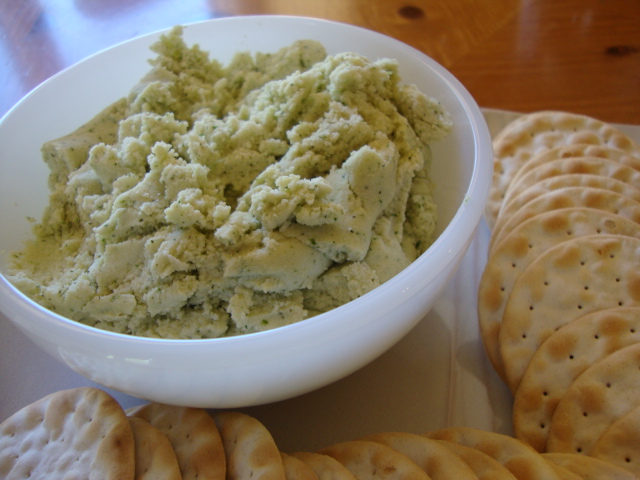 It's amazing what you can make with almonds! This recipe is the same as the Almond Cheeze Log, but this time, I added herbs to it. This cheeze is light and fluffy and the herbs are subtle. Feel free to add more than I did, but I think you'll like this mild version.
INGREDIENTS:
1 C blanched almonds
1/4 C lemon juice
3 Tbs olive oil
1 clove garlic, peeled (I used minced)
1-1/4 tsp salt
1 Tbs fresh chives, chopped
1 Tbs fresh parsley, chopped
1/2 tsp dried dill
1/2 tsp onion powder
1/2 tsp garlic powder
1/2 C cold water
Cheesecloth (a thin cotton napkin works great, too)
DIRECTIONS:
First, to blanch the almonds, add them to a small sauce pan and fill with water, just to cover the almonds. Bring to a boil for 2 minutes. Drain and rinse with cold water. Pinch the skins between your finger and the skins will slide right off. Dry them off well.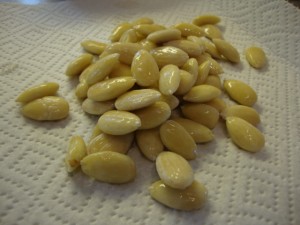 Place almonds in a medium bowl and cover with 3″ of water; soak for 24 hours. Drain and rinse twice with running water. Next, puree the almonds with the chives and parsley.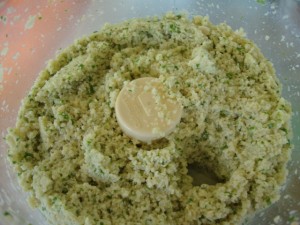 Then, add the dill, onion powder, garlic powder, lemon juice, olive oil, garlic, salt and water in a food processor until smooth. Place a fine mesh strainer over a bowl and line the strainer with a triple layer of cheesecloth. Spoon mixture into cheesecloth or cloth napkin.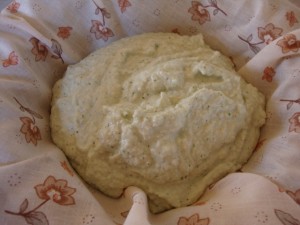 Bring the corners and sides of the cheesecloth together and twist around the cheese, squeezing out any excess moisture. Secure with a rubber band and refrigerate for several hours. Enjoy!