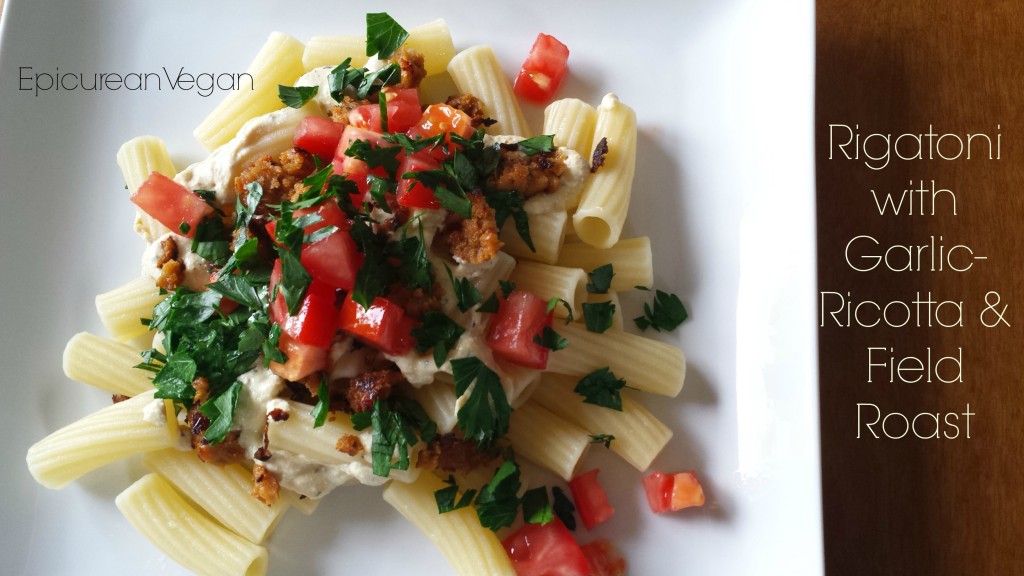 Thanks to the previous lasagna meal, I had a few ingredients leftover and I needed a fast and easy dinner to throw together. I had some tofu ricotta left, as well as two Field Roast sausage links, so it worked out beautifully. I wanted to make the ricotta more of a sauce, so I added some minced garlic and a bit of vegetable broth to thin it out. When I sauteed the Field Roast, some of the small crumbles got nice and crispy, creating a kind of crumbled bacon taste. Yum! Fresh tomatoes and parsley (basil would be great too) and the meal was ready in 15 minutes.

Rigatoni with Garlic-Ricotta & Field Roast
Ingredients
1 lb Rigatoni pasta
1 C tofu ricotta (see link above)
2 cloves garlic
¼ C vegetable broth (I used a tsp of Better Than Bouillon + water)
2 Field Roast sausage links, Italian Seasoning flavor
1 tomato, chopped
½ C parsley, chopped
Directions
Cook the pasta according to package instructions.
Mince the garlic cloves in a food processor, then add the ricotta and vegetable broth. Process 30 seconds, or until smooth. Transfer to a small saucepan and heat over medium-low heat until heated through.
Meanwhile, saute the Field Roast in a skillet with a tad of olive oil.
To serve, top individual servings of pasta with some sauce, Field Roast, tomatoes and parsley. Enojy!