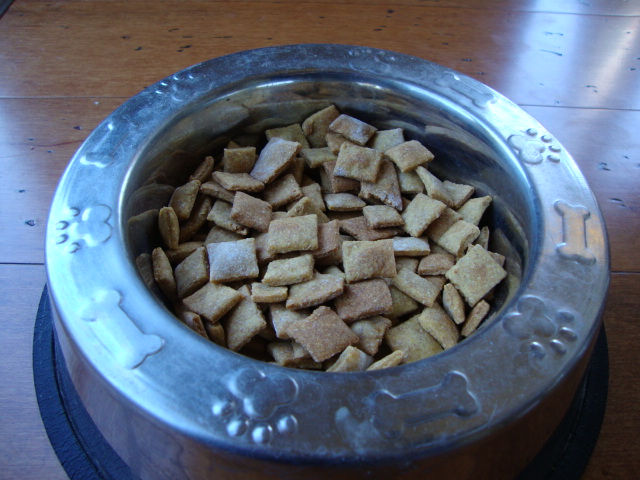 These are similar to the other dog treats I made, but this time I added pureed pumpkin. I meant to add some fresh parsley and mint, but completely forgot—next time, I guess. We'll just have to continue to deal with Moe's stinky breath until it's time to make more treats. Since commercial treats are full of artificial ingredients, preservatives and animal products, we prefer to make his own treats. It's especially convenient since Moe has been working on his Canine Good Citizen training so that he can be a therapy dog. Lots of training means lots of treats, so I feel better about loading him up with these and not the gross store-bought ones. I also froze the remaining pumpkin puree to use the next time I make treats.
INGREDIENTS:
1/4 C peanut butter
1/4 C canned pumpkin (make sure it's just the puree and not the pie-filling that contains spices and other stuff)
1 C water
2 Tbs oil (flax, omega, olive, or vegetable)
1-1/2 C flour
1-3/4 C whole wheat flour
1/4 C fresh mint, minced (optional)
1/4 C fresh parsley, minced (optional)
DIRECTIONS:
Preheat oven to 350. Using an electric mixer, combine the peanut butter, pumpkin, water, and oil. If using, you can throw in the parsley and mint here, too. Combine until smooth. Slowly add the flours and mix until well combined.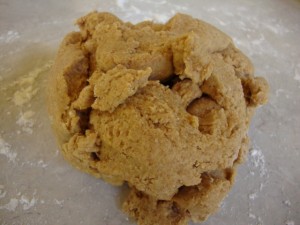 Divide the dough in half. You may want to cover the portion you're not using, as it will start to dry out. Working with half the dough at a time is easier. On a lightly floured surface, roll out the dough to about 1/4″ thickness. I then used a pizza cutter to make small squares.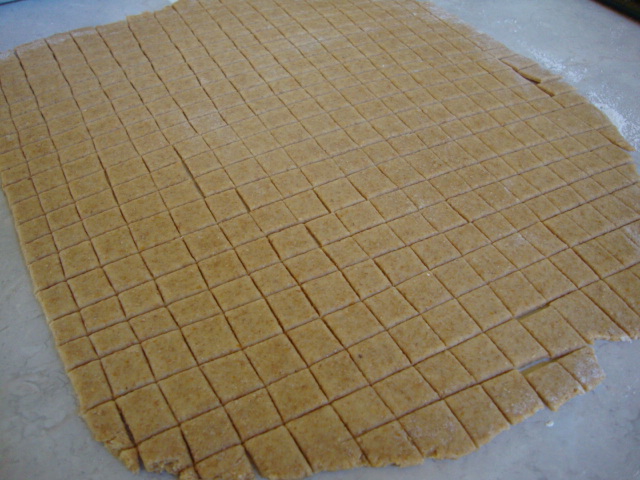 Place the pieces onto a large baking sheet. Yes, this step is time-consuming (a great job for the kids to help with!), and you can cut them into any shape and size  you'd like, but this size works great for training and you don't have to break them up. If you cut them like I did, you'll get just over 2-1/2 of the baking sheets of them. Bake for 18-20 minutes.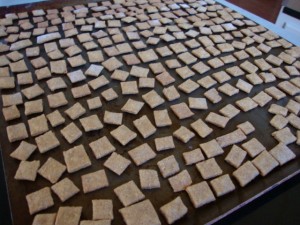 They come out pretty crispy, so I pour them into a large metal bowl so I can reuse the pan. Once they've cooled, store them in an air-tight container and they will last up to 6 weeks.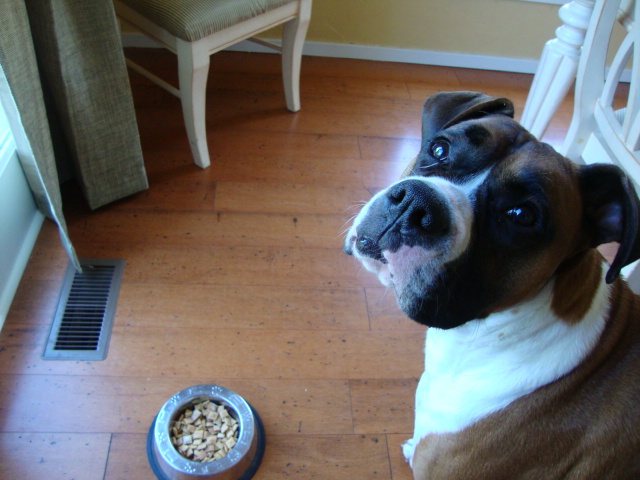 They are Moe-Approved!