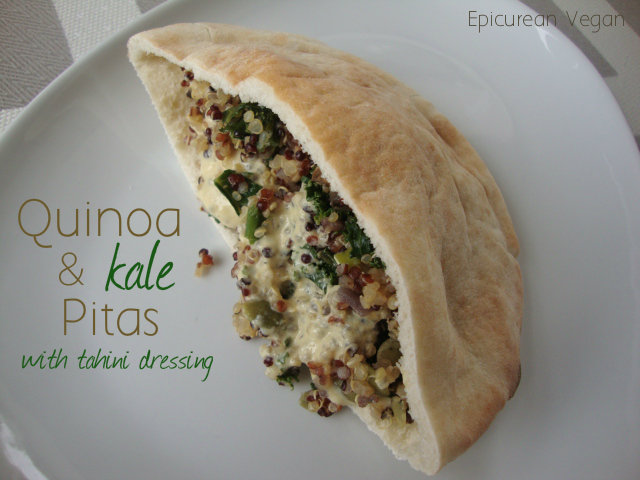 These are packed with some of my favorite ingredients! Quinoa is loaded with protein and the kale is well . . . it's kale! We all know kale is high in iron, calcium and several vitamins. Check out these 10 Health Benefits of this super green. I also threw in some pepitas, which are rich in vitamins, beta carotene, and protein. I made a pretty big batch so that I can nosh all week (especially post workouts), but feel free to halve the recipe if you're fearful of getting quinoa'd out. (Inconceivable!

)
INGREDIENTS
Filling
2 C tri-color quinoa
4 C vegetable broth or water
1 Tbs olive oil
2 cloves garlic, minced
1 C red onion, diced
3/4 C green onion, sliced
2 C mushrooms, diced
1 bunch kale, leaves removed and chopped (stems discarded)
3/4 C pepitas
Dressing
2 large cloves of garlic
1 Tbs tahini
2 Tbs yellow/light miso
1/4 C nutritional yeast
1/2 C unsweetened almond milk
1/2 C cold water
2 Tbs chia seesds
1/4 tsp black pepper
The rest
Pita pockets
Avocado slices
DIRECTIONS
I recommend making the dressing first. It'll be a little runny, but letting it sit for 20 minutes or so, will allow the chia seeds to do their thing and thicken up the dressing. In a food processor or blender, combine all of the dressing ingredients and blend until smooth. Set aside.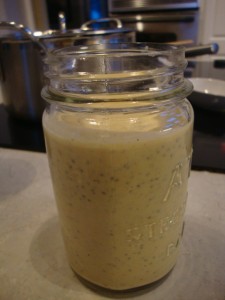 In a large soup pot, combine the broth (or water) with the quinoa. Bring to a boil, then reduce heat to low. Cover, and cook for about 20-25 minutes, or until all of the liquid has been absorbed.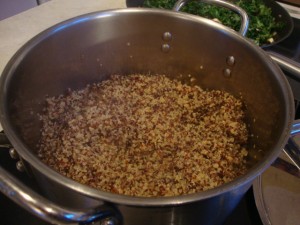 Meanwhile, heat the olive oil and garlic in a large skillet. Add the red and green onions. Saute until softened and a tiny bit browned. Add the kale and mushrooms and saute until the the kale is bright green, about 5 minutes.


Fold the veggies and pepitas into the cooked quinoa.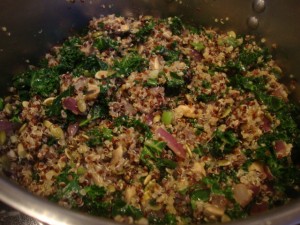 I placed a little dressing inside the pita,  along with a slice or two of avocado, then added the filling, and topped with some more dressing. Enjoy!