I recently had the pleasure of attending a Vegan Outreach fundraiser hosted by Vickerey, an online vegan retailer based out of Boulder, Colorado. Vickerey was founded by Steve Knight and his wife, Sarah Keith fourteen years ago, and they recently moved into their new, beautiful offices at 5660 Valmont Road in Boulder.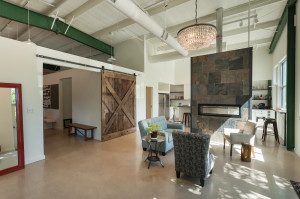 And this kitchen . . .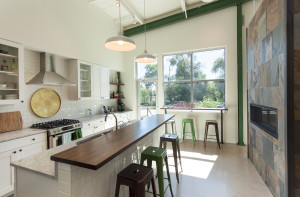 Sarah and Steve are also offering this amazing space to rent for events. I could have a party here every week . . .  If you're interested in renting this space, call them at 303-468-2600.
Vickerey, a.k.a. earthy luxe, pretty much offers my fantasy closet. It is filled with high-quality clothing (for men and women); cosmetics; accessories; home & office wares; yoga gear; and so much more . . . and all 100% vegan.
"We started Vickerey because we wanted to live well, but live our values, too. We wanted to make it easier to find great products that also happened to be animal-friendly, without having to spend hours vetting items in every store or sacrificing quality or style. So, we created Vickerey to offer this all in one place, hopefully appealing to vegans and non-vegans alike. That's what compassionate living means to us."
~ Sarah Keith, co-founder of Vickerey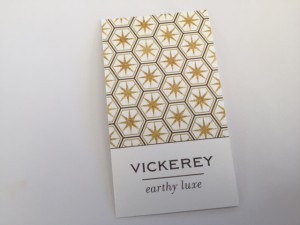 Because they believe so strongly in compassionate living and want to pay-it-forward, Steve and Sarah hosted a fundraiser for Vegan Outreach, a non-profit organization made up of over 500 volunteers who tirelessly campaign on behalf of animals. We had the pleasure of hearing Lori Stultz and Lisa Rimmert speak about their work and how important the organization's mission is. They have so much love dedication for what they do.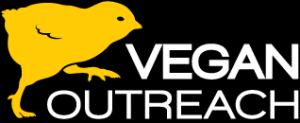 This year, thanks to donations, they have distributed 1.1 million leaflets across the country. They also have a strong presence in Australia, Canada, and Mexico. They primarily focus on college campuses through their Adopt a College program that aims to educate America's youth, whose voices are integral in making change. One of my favorite things they've started is The Compassionate Athlete booklet that helps student athletes see that they can actually be stronger and healthier without animal products.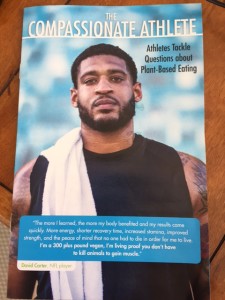 They're making big differences! Meat consumption is way down—last year, 400 million fewer animals were slaughtered. I think Vegan Outreach and the work they do, has a lot to do with it. But of course, they need help, so please consider donating. They also have some great products to buy that support their work as well. (I love these restaurant cards!)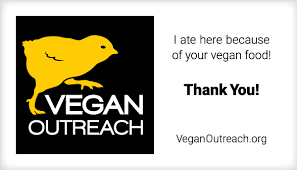 These types of things help. It's important to recognize and acknowledge the efforts that companies and restaurants do so that they continue to support vegans—and maybe even double or even triple their efforts.
We also had the amazing opportunity to hear from author and co-founder (with Jane Goodall) of  Ethologists for the Ethical Treatment of Animals: Citizens for Responsible Animal Behavior Studies. (You must read his bio!) Marc is the author of 30+ books, most recently, Rewilding Our Hearts: Building Pathways of Compassion and Coexistence.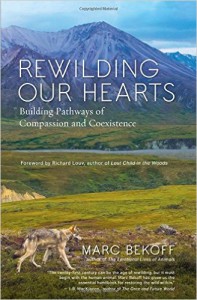 Bekoff explains that rewilding is about re-enchanting ourselves with nature again—because it is, after all, in our nature, what he calls biophilia; as humans, we are inherently attracted to nature. Among many endeavors, Marc is working to show that there is no difference between violence against another human and violence against an animal. It was really an honor to hear him speak. I encourage you to check out his books and read about his work.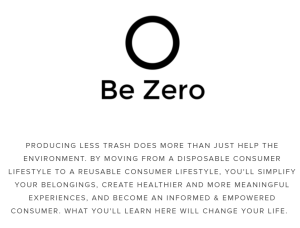 The great thing about events like this, are the other attendees you get an opportunity to meet. We were thrilled to learn about Be Zero with founder, Andrea Sanders. You want to talk trash? Andrea's your gal! What a delight she is! It was also an educational experience on trash and recycling. Even her business cards are on trash! Love it.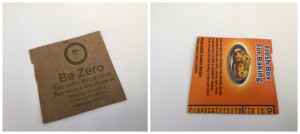 Be Zero is a non-profit that aims to educate and offer support on how to live simply and reduce trash. Andrea offers classes on how to do just that with the Trash Diet Workshop where she shows participants how to, among many things, eliminate household waste, toxic cleaning products, and processed foods. Her January 9th class is full, but I'm definitely going to sign up for a future class. Andrea pointed out that in Colorado alone, only 11% of recyclable trash is actually recycled! Many communities do not have any recycling options, and any recycling centers are closing down. This needs to change, which can only happen when communities demand it.
I was so inspired with Andrea's passion and dedication to Be Zero and realized there is so much we need to learn about recycling, our abundance of household waste, and what we can do about it. She pointed out that we often forget to acknowledge companies when they are making an effort to reduce trash, such as Daiya. I'm loving their farmhouse block cheese. Until she said something, I hadn't noticed: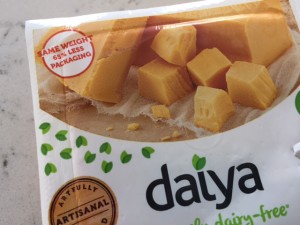 See?! 65% less packaging! And she let Daiya know she appreciated that. Just like with letting restaurants know you appreciate them making efforts to offer vegan meals, let companies like Daiya know that they rock for coming up with ways to reduce trash.
Kudos can go a long way. It lets people know that what they are doing isn't falling on deaf ears and that it's appreciated. And they'll likely keep it up.
These things make a difference. Support companies that are doing it right—and let them know you've noticed.
It was a fabulous evening that The Husband and I were thrilled to be a part of. Be sure to check out Vickerey's amazing vegan wares, help Vegan Outreach spread the word, read Marc Bekoff's book, and sign up for one of Andrea's workshops!