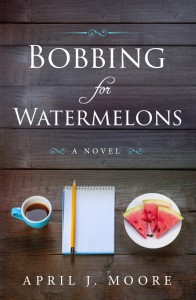 Okay, so it's not a cookbook, but my main character is a food columnist . . .Today's an exciting day—it's the release of my second book, Bobbing for Watermelons. You can order a copy from Amazon, and it is also be available for the Kindle, Nook and Kobo.  One of these days I'll be back with a new recipe . . . I promise! In the meantime, I hope you feel inclined to check out my new book:
In the small town of Brookwood, Iowa, forty-one-year-old food columnist Helen Munson, unappreciated by her two teenagers and her lazy husband, longs for more out of life, but hasn't a clue how to make that happen. In fact, her tendency to overreact and put herself in embarrassing situations sabotages her own efforts to assert herself. Helen impulsively starts writing a spy novel whose main character exudes traits Helen tries to embody in her own life: power, assertiveness, and the ability to kick butt. However, this persona doesn't quite manage to keep her out of trouble, or jail. With help from a cast of quirky characters, such as her hippie best friend, a free-spirited drifter, and a pair of fashionable gay store owners, Helen just might be able to pull of the transformation of a lifetime.
You can read the first four chapters now!
Thanks, everyone!