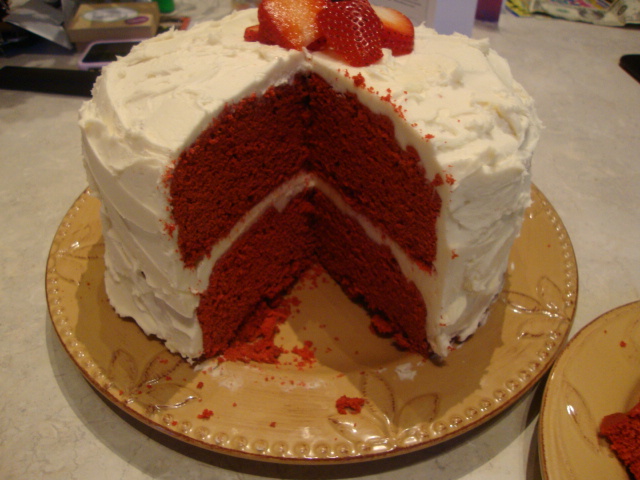 Okay, this cake could have been one of the most amazing vegan desserts ever. . . if I hadn't of screwed it up. Really, it was all my fault. Apparently, I didn't know the difference between 2-1/2 cups and say. . . 4 cups. Of the dry ingredients. What was I thinking? I wasn't. Got heavy-handed with the dry baking mix and the cake ended up a bit dense (much like the baker). I thought the flavor was really good and the "buttercream" frosting was delicious! Plus, it's gluten-free!
So I've only posted the winners before, but c'mon—the pictures! I had to post it after all the work and it is my birthday for at least another 45 minutes, after all, so I can do what I want! 🙂 Really, if it hadn't been for my mistake, I truly think this recipe is a winner. Try it and let me know what you think! If not, enjoy the pictures! (A special thank you to the kind folks who I "tested" this on. . . you're all good sports)!
CLICK HERE for the redemption version!
INGREDIENTS:
Cake:
1 C gluten-free vanilla rice milk
1 tsp cider vinegar
2-1/2 C Betsy's Baking Mix (below. . . and this is where I screwed up because the mix makes more than 2-1/2 cups)
1 tsp salt
1 tsp xanthan gum
1-1/2 C granulated sugar
1/2 C organic palm oik shortening
2 Tbs unsweetened cocoa powder
1 ounce red food coloring
1/4 C +3 Tbs unsweetened applesauce
1 tsp vanilla extract
1 Tbs distilled white vinegar
1 tsp baking soda
Betsy's Gluten-Free Baking Mix:
3-3/4 C garbanzo flour
2-1/4 C potato starch
1-1/2 C tapioca starch/flour
(Combine all ingredients with a wire whisk. Seal in an airtight container and shake vigorously for 1 minute)
Frosting:
1-1/2 C Earth Balance margarine
4-1/2 C confectioners' sugar
Vanilla soy/rice/almond milk
2 tsp vanilla extract
DIRECTIONS:
Preheat oven to 350. Grease two 9″ round cake pans. In a small bowl, make "buttermilk" by combining rice milk and cider vinegar. In a large mixing bowl, combine the baking mix (just the 2-1/2 cups) with the salt and xanthan gum. In the bowl of a stand mixer, cream together the sugar and shortening. Meanwhile, in a separate small bowl, mix the cocoa powder and food coloring to form a paste; set side.
Add the applesauce and vanilla to creamed shortening and sugar blend until the mixture is light and creamy. Add the cocoa powder paste and mix well. Alternately add the dry ingredients and the "buttermilk" mixture to the batter, beginning and ending with the dry ingredients. Pour the white vinegar into a small cup and sprinkle the baking soda over it. Immediately pour the fizzing combo into the cake batter and thoroughly combine the two mixtures.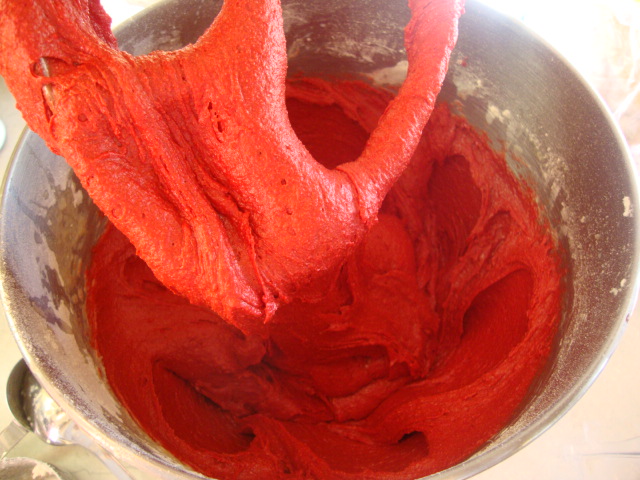 (That's some thick batter)!
Divide the batter between the prepared pans and bake the cakes for 30-35 minutes. Let cakes cool completely in their pans on a cooling rack. Turn cakes out of their pans.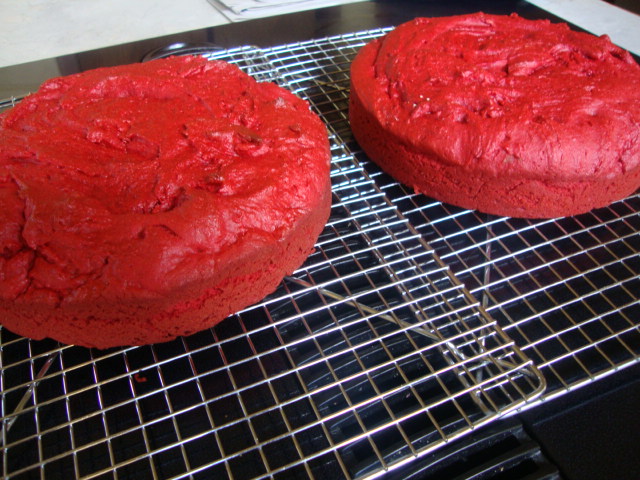 To make frosting: With a mixer, cream the butter until fluffy. Alternately, add the confectioners' sugar and enough soy milk to reach desired consistency. Add the vanilla extract and mix well.
Frost the top of each cake layer. Transfer 1 layer to a serving plate and set the other layer on top. Frost the sides of the cake. Store the frosted cake, covered and refrigerate, for up to 3 days.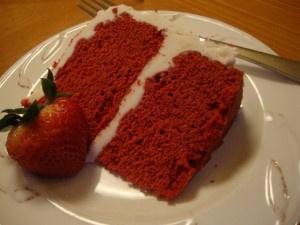 I think a scoop of soy ice cream on top would have been perfect — and possibly would have even saved me, but of course, I didn't have any!
Recipe source (cake only): Living Without