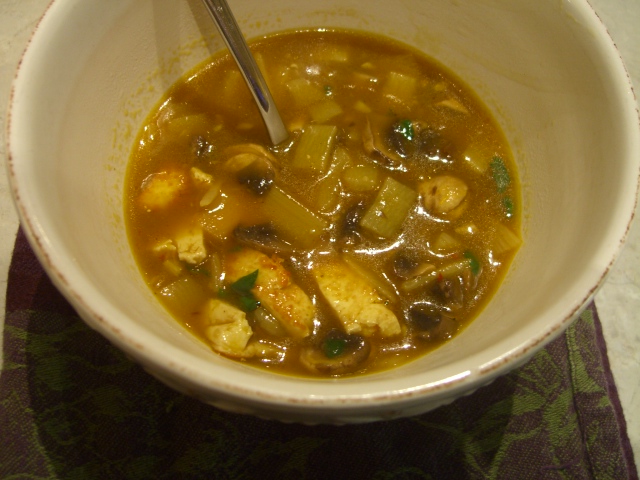 Very easy and very delicious! It smelled so good as it simmered. I could easily taste each ingredient such as the toasted sesame oil and cilantro.
INGREDIENTS:
1/2 dried cloud ear or shiitake mushrooms, soaked in very hot water to cover, 20 mins (I used the shiitake)
2 C canned or fresh sliced bamboo shoots (The recipe didn't specify what sized can. I used 14 oz of small, cute, little bamboo shoots)
4 tsp peanut oil
8 oz (just over 1/2 a usual pkg of tofu), drained and cut into thin strips
1 garlic clove, minced
1 Tbs peeled and minced fresh ginger root
4 C Vegetable stock
2 Tbs tamari or other soy sauce
2 Tbs rice vinegar
1/2 tsp sugar
1 tsp Asian chili paste
1 tsp cornstarch dissolved in 2 tsp water
1 Tbs toasted sesame oil
1 Tbs fresh chopped cilantro
2 Tbs chopped scallions (I left these out)
One thing I thought it needed was at least a 1/2 C of chopped green onion. I say add with the mushrooms.
Salt and pepper
DIRECTIONS:
Drain the mushrooms and discard the stems. Cut into thin strips and set aside. If using canned bamboo shoots, drain and rinse, then cut into thin strips (unnecessary if they're the ones in the can–typically) and set side. If using fresh ones, soak in water to cover for 30 mins. Cut into thin strips, cook in boiling water until tender and set aside.
Heat 2 tsp of peanut oil in a medium skillet over medium-high heat. Add the tofu and cook, stirring until golden brown, about 5 mins. (I found that 10 mins was better). Set aside.
Heat the remaining 2 tsp oil in a large pot. Add the garlic and ginger and cook until fragrant, about 30 seconds. Add the stock, tamari, vinegar, sugar, chili paste, and mushroom strips. (If you don't want crunchy bamboo shhots, add them now). Bring to a boil over high heat, then reduce the heat to medium and simmer until mushrooms are tender, about 5 (to 10) mins. Add the tofu and bamboo shoots and bring back to a simmer. Stir in the cornstarch mixture and cook until heated through, about 5 mins. Stir in the sesame oil, scallions, cilantro, salt and pepper to taste. Serve hot.
This was such a delicious soup and can be quite changeable. Try 8-10 oz rice noodles during last 5 mins of cook time. If  you're going to do that, I would recommend adding at least another cup of broth and nearly doubling some of the other ingredients like the rice vinegar, sesame oil, tamari, chili paste and cilantro.
This made about 4 servings with no leftovers. Next time, I might just double it. I was impressed with the various flavors and the ability to taste so many of them at once. I loved it! Enjoy!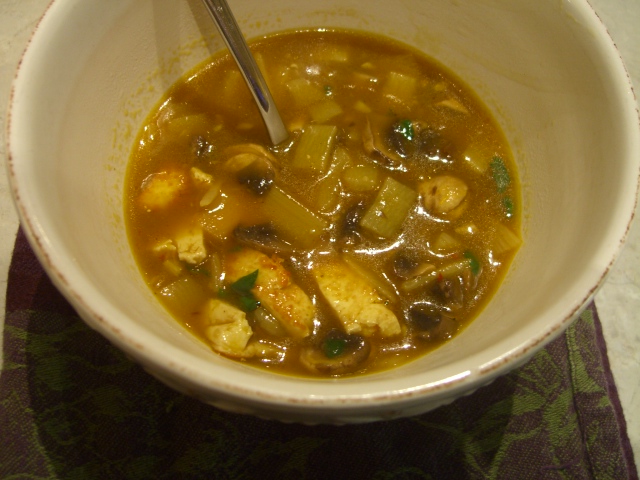 Recipe source: Vegan Planet