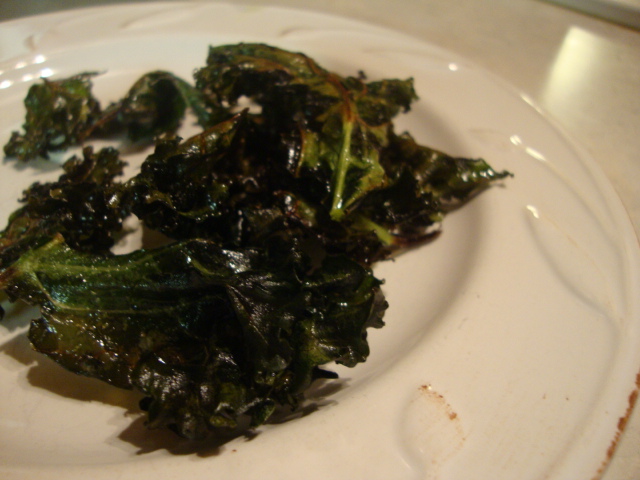 "They're weird, but I can't stop eating them." This is what my husband said. It's so true–they're like paper thin potato chips! They kinda just melt in your mouth but certainly have a crunch–and so good! And did you know…kale is considered an aphrodisiac? Just so you know! 😉 This recipe comes from Vegetarian Times.
INGREDIENTS:
1 lb kale, rinsed and patted dry
2 Tbs olive oil
1/2 tsp kosher salt
DIRECTIONS:
Preheat oven to 325. Coat baking sheet with cooking spray (I used foil). Tear kale into 3″ pieces, removing tough stems. Transfer leaves to a bowl. Toss kale leaves with the oil, until well coated.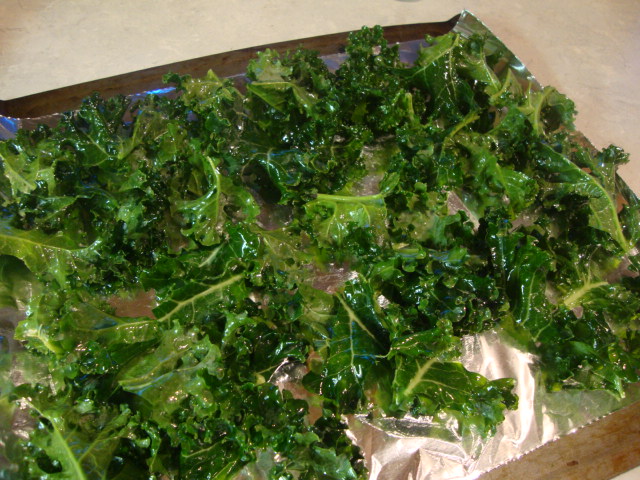 Spread on a baking sheet and bake 15 mins. (I did 10). Turn kale with tongs and bake another 10-15 mins (I did 7 more mins) or until edges are browned and leaves are crispy. Sprinkle with salt. Serve warm or cold.  Enjoy!