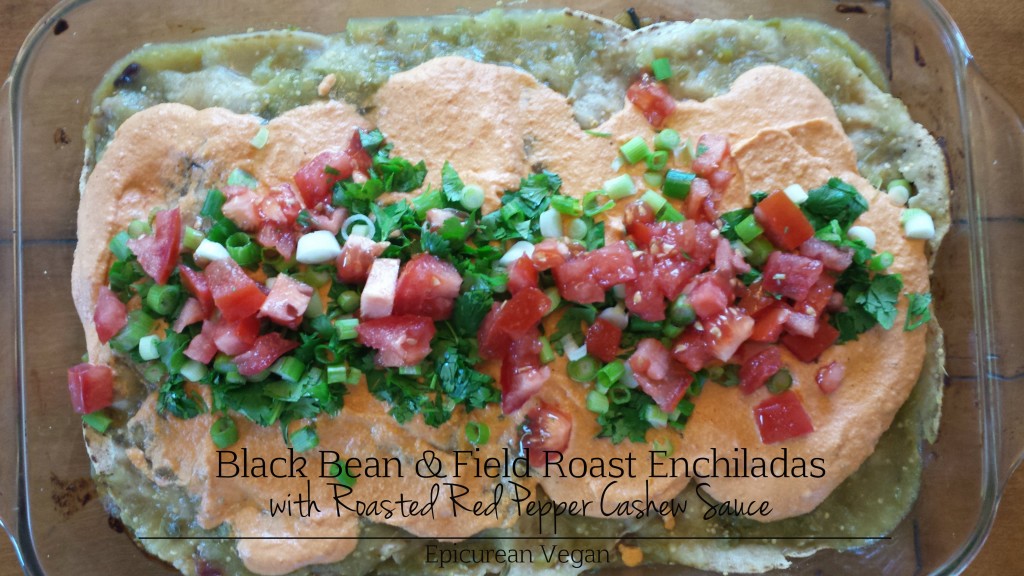 Oh yes, this is as delicious as it sounds and simple to make as well. Technically, they're not really enchiladas, but more of an enchilada casserole. You can certainly roll the corn tortillas, but sometimes I find that they fall apart so easily and I didn't want to lose my mind making dinner. Anyhow, I love using Field Roast (aside from the great taste) because they're not made from strange ingredients; it's all wheat, veggies and seasonings. And our omnivore friends also like it because it's a satisfying meat sub that even they like.
INGREDIENTS:
1 to 2 Tbs olive oil
2 cloves of garlic, minced
1 C red onion, diced
1 Field Roast sausage link, Chipotle flavor, broken into small chunks
1 medium zucchini, quartered, then sliced
1 15-oz can black beans, drained and rinsed
1/2 C corn kernels
18 6″ corn tortillas
1 16-oz jar salsa verde
1 C cilantro, chopped
3/4 C green onion, sliced
1 tomato, diced
Roasted Red Pepper Cashew Sauce
1-1/2 C unsalted cashews
1 large clove of garlic
1 C water
2 Tbs lime juice
3/4 tsp salt
1 Tbs nutritional yeast
1 jarred roasted red pepper
DIRECTIONS:
To begin, place the cashews in a bowl and cover with boiling water. Let them soak while you prepare the enchiladas. Preheat oven to 375. In a large skillet, heat the olive oil and garlic; add the red onion and cook until it begins to soften over medium heat. Add the Field Roast and cook about 3 minutes. Add the zucchini and saute until it begins to soften a bit—not too much—it will cook more in the oven. Stir in the black beans and corn and cook until heated through, 3-4 minutes.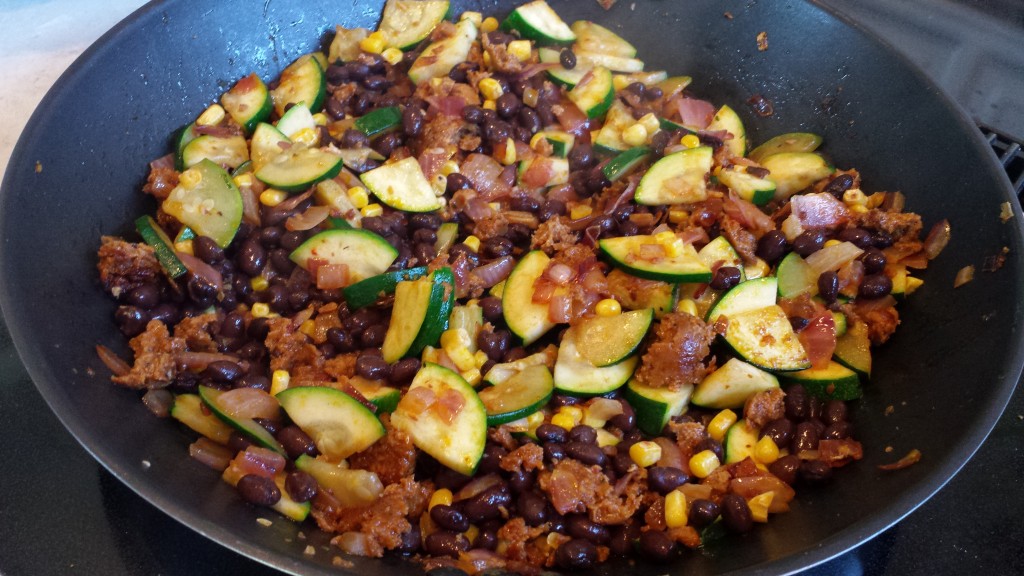 Pour half of the salsa verde into a 9×13″ baking pan and spread it evenly on the bottom. Lay 6 corn tortillas on the bottom, overlapping them, but covering the entire pan. Place half of the black bean mixture on top and add another 6 tortillas. Finish up by layering on the rest of the veggies, topping them with the remaining 6 tortillas.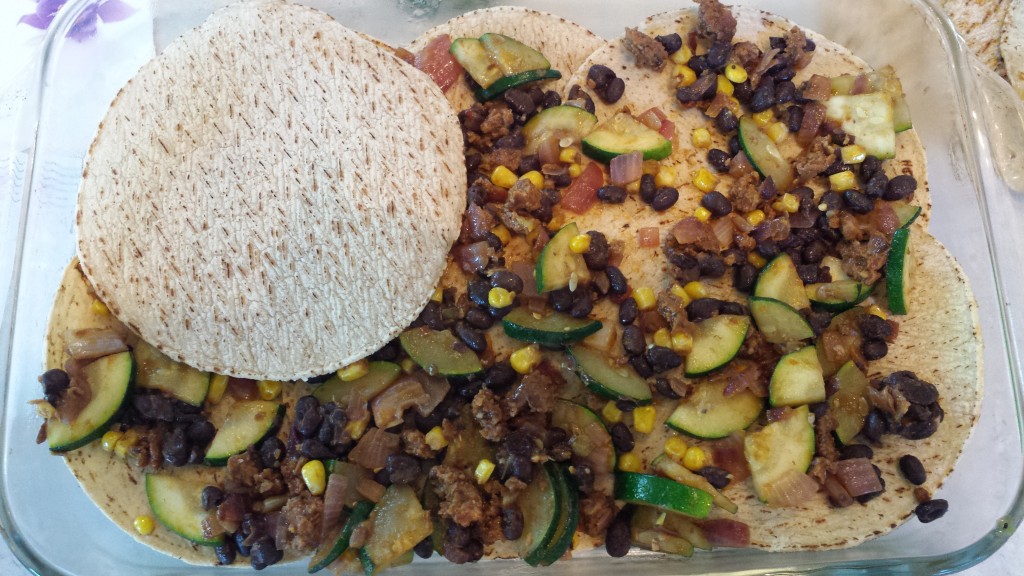 Pour the rest of the salsa verde on top and spread it around evenly to coat the tortillas. Cover with foil and bake for 25 minutes. While that cooks, make the sauce. Drain the cashews and add them to the food processor, along with the garlic. Puree for a minute, scraping the bowl if necessary. While the machine is running, add the water, lime juice, salt, and nutritional yeast; blend until smooth, about 3 minutes. Add the roasted red pepper and puree until smooth.

Transfer to a medium sauce pan and heat over medium-low heat for 5-7 minutes, stirring often until hot.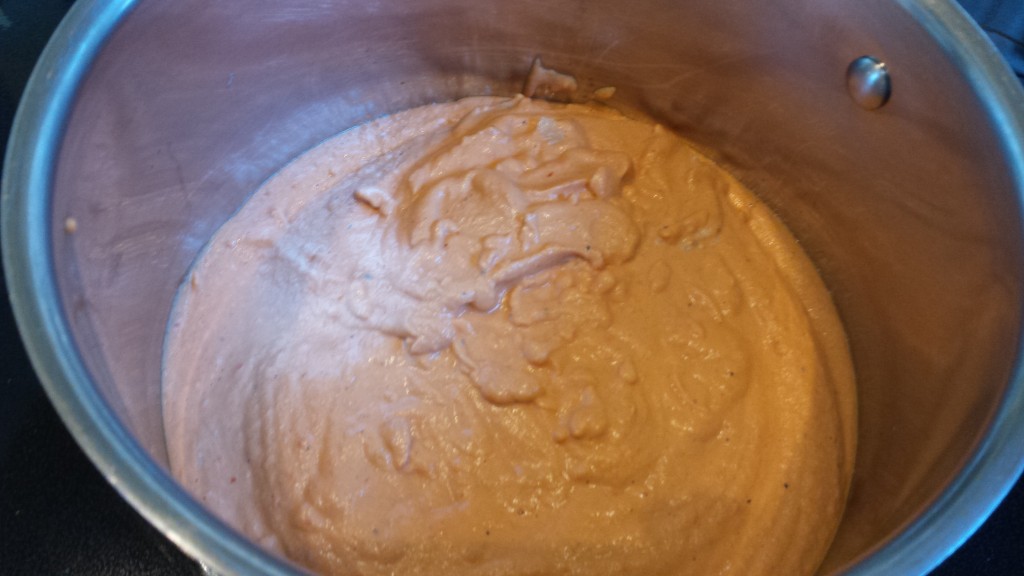 Pour the cashew sauce over the enchiladas (I didn't use all of the sauce—leftovers would be great for nachos)! and top with the cilantro, green onion and tomatoes. Slice and enjoy!