Impress your neighbors and wow the in-laws with your pastry chef-like skills by making this surprisingly easy danish. The original recipe is from Nigella Lawson's How To Be A Domestic Goddess cookbook and so for some time, I've been dying to veganize this recipe. I made several alterations, but I am so impressed with how flaky and delicious they came out. Don't freak out by all the directions–it was actually quite simple. Plus, you don't actually need to use a food processor–a mixer will work just fine.
INGREDIENTS:
1/4 C warm water
1/2 C soy milk
1 large egg (1 Tbs ground flax seed mixed with 3 Tbs water)
2-1/4 C all-purpose flour
1 pkg (1/4 oz) rapid-rise yeast
1 tsp salt
1 Tbs sugar
1 C unsalted butter, cut into thin slices (Earth Balance sticks)
Filling:
Pinch of salt
1 C ricotta cheese (Tofutti cream cheese)
1 Tbs lemon zest (I used a lime)
1 large egg, beaten (again, 1 Tbs ground flax seed + 3 Tbs water)
3 Tbs unsalted butter, melted and cooled (Earth Balance)
Glaze:
1/3 C sugar
1/4 C water
DIRECTIONS:
Pour the water and milk into a measuring cup and add the flax seed mixture, beating with a fork to mix. Put to one side for a moment. Get out a large bowl, then put the flour, yeast, salt and sugar in the processor, and give one quick whirl just to mix. Add the cold slices of Earth Balance and process briefly so that the butter is cut up a little, though you still want visible chunks of at least 1/2″. Empty the contents of the processor into the large bowl and quickly add the wet ingredients. Use your hands or a rubber spatula to fold the ingredients together, but don't overdo it: expect to have a gooey mess with some butter lumps pebbling it. Cover the bowl with plastic wrap, put in the refrigerator, and leave overnight or up to 4 days.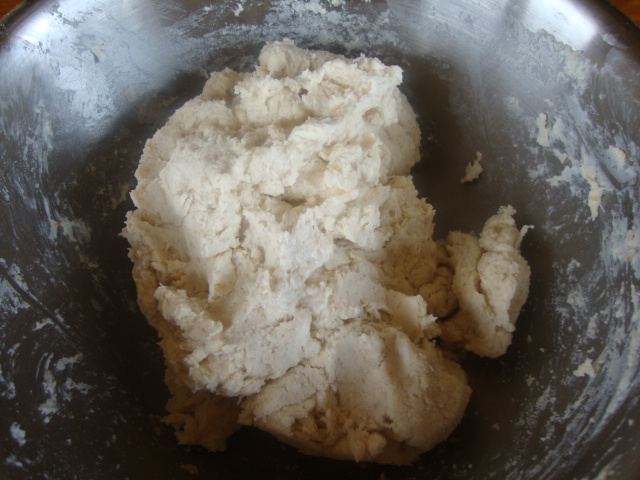 To turn it into pastry, take it out of the refrigerator, let it get to room temperature, and roll it out to a 20″ square. (This was fairly easy–it rolls out very nicely). Fold the dough square into thirds, like a business letter, turning it afterward so that the closed fold is on your left, like the spine of a book.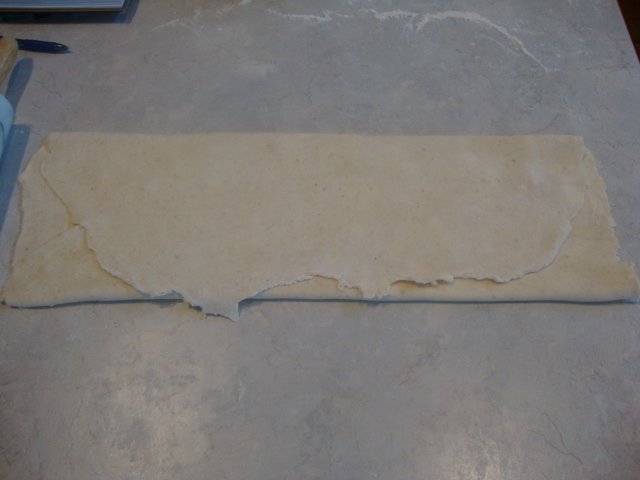 Roll out again to a 20″ square, repeating the steps above 3 times. Cut in half, wrap both pieces and put each in the refrigerator for 30 mins. (Just gently fold and wrap with plastic wrap–worked great).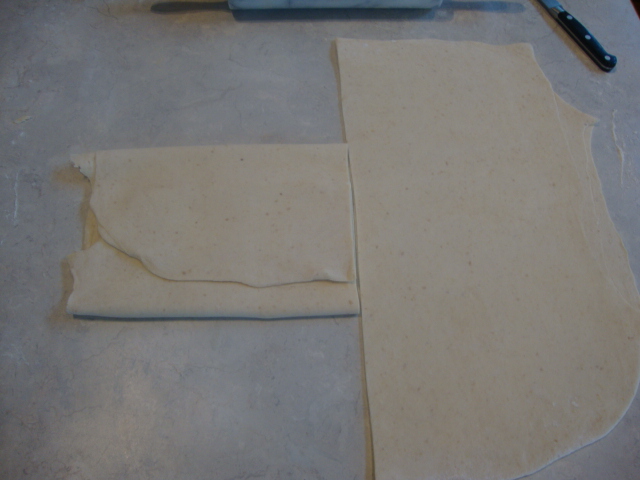 So for the filling:
Combine the cheese, sugar, salt, lemon zest, egg-replacer, and Earth Balance. (I used the food processor)
Then you're ready!
First of all…the recipe is intended to make 6 large danishes. For the first batch I made 3 large ones and decided on the second batch to make smaller ones, which I personally thought worked much better.
Roll out one of the pastry dough halves into a big rectangle (recipe doesn't specify exactly how big…) Divide into thirds and place a tablespoon of cheese filling on each piece of dough. Fold the opposite corners up together and seal with a pinch.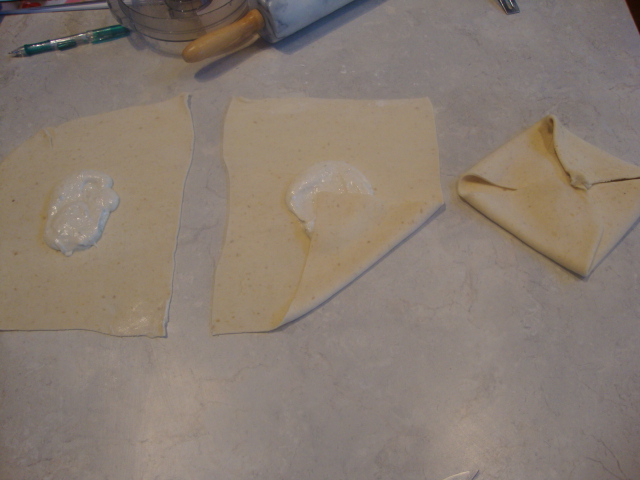 Place on baking sheets prepared with waxed paper and brush with the sugar/water glaze. The recipe then calls for them to rise for about 1-1/2 hours. Yeah, that didn't happen for me, but apparently that was no big whoop because they came out great. Preheat oven to 350 and bake 15 mins or until puffy and golden brown.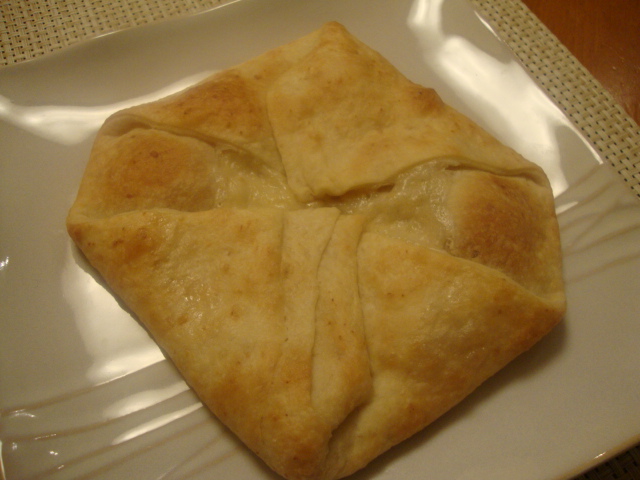 I then made a lime icing (since I used lime zest) by combining about a cup of powdered sugar and then drizzled in lime juice, stirring and adding more juice to get the consistency I wanted. I then drizzled the danishes with the icing…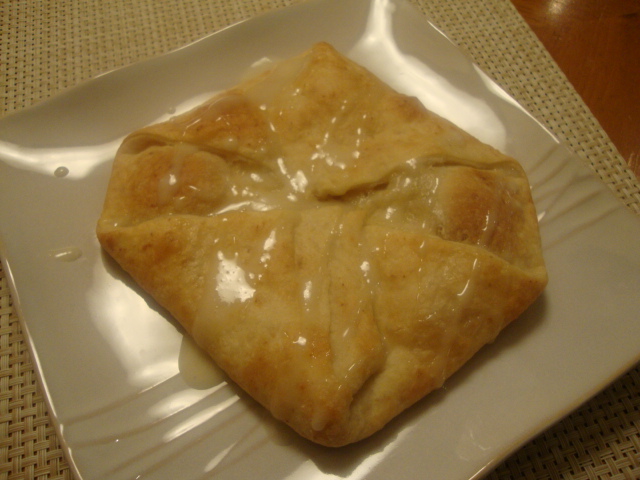 For the second batch, I made smaller ones and spread out the filling more. I brushed them with the glaze and this time, they baked about 20 mins.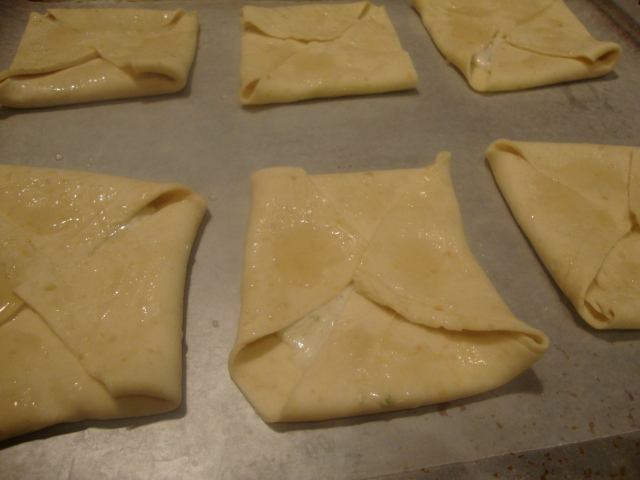 These really came out amazing and I will make these again and again! Enjoy!