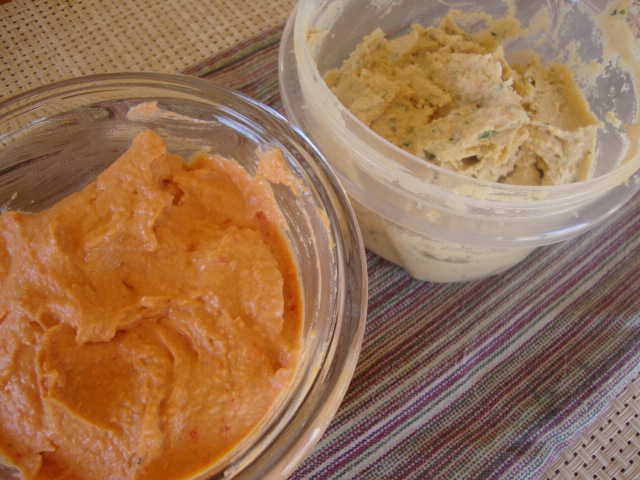 I love that hummus is so versatile and easy to make. It's also cheaper to make your own than buying prepackaged hummus. Here are two other varieties that a friend introduced me to and please note, the picture shows just half what the recipe yields.
INGREDIENTS:
4 garlic cloves
1 teaspoon salt
two 1-pound 3-ounce cans chick-peas, drained and rinsed
2/3 cup well stirred tahini
1/4 cup fresh lemon juice, or to taste
1/2 C olive oil, or to taste
For Parsley and Garlic Hummus
1/4 cup oil
1/4 cup parsley
1-2 garlic cloves, depending on taste
For Roasted Red Pepper Hummus
2-3 peppers from a can of roasted red pepper
1/4 cup of olive oil
Other variety would  be adding black or kalamata olives…yum!
DIRECTIONS:
On a cutting board mince and mash the garlic to a paste with the salt. In a food processor purée the chick-peas with the garlic paste, the tahini, the lemon juice, 1/2 cup olive oil, scraping down the sides, until the hummus is smooth and add salt to taste. Add water, if necessary, to thin the hummus to the desired consistency and transfer the hummus to a bowl.
The hummus should be a little thick in consistency, place half in a bowl and save for later for the roasted red pepper.
In the food processor, cleaned, purée the remaining 1/4 cup oil with the parsley and garlic until the oil is bright green and the parsley is minced transfer the parsley oil to a small jar. The hummus and the parsley oil may be made 3 days in advance and kept covered and chilled. If the consistency still seems too thick, add more warm water if needed.
Add the other half of the hummus in the food processor. Add two to three roasted red peppers and olive oil. If needed added more water.
Serve with crackers, veggies, on sandwiches as a spread and a million other ways.
Recipe source: Kitchen Challengers