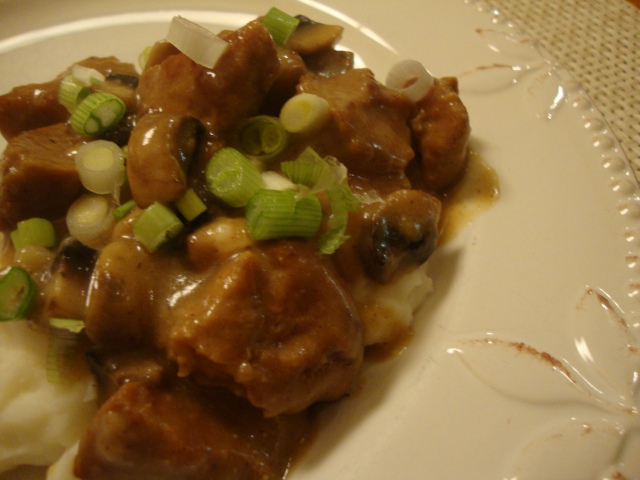 This is another outstanding recipe from Vegetarian Times, this time, from their Healing Foods Cookbook. I used chicken-style seitan instead of tempeh and served it over mashed potatoes. I doubled it–making about 5 servings. Plus, taking less than 30 mins to make, I will certainly be making this again and again.
INGREDIENTS:
4 Tbs olive oil, divided
1 7-oz pkg tempeh, cut into 1/2″ cubes (I used 2 pkgs Westsoy seitan–blue box)
1 Tbs low sodium soy sauce
10 oz cremini or button mushrooms, sliced
8 oz shiitake mushrooms, stemmed and sliced (I didn't have these so I just used more cremini mushrooms)
2 Tbs all-purpose flour
2-1/2 C lager, such as Samuel Adams Boston Lager (I used Dundee Lager–I don't think it matters, plus I didn't completely double this–used about 3-1/4 cups)
2 Tbs Dijon mustard
2 green onions, white and green parts finely sliced
DIRECTIONS:
Heat 2 Tbs oil in 12″ skillet over medium heat. Cook tempeh (if using seitan, keep in mind that seitan cooks faster than tempeh–it's just a matter of browning it, which doesn't take more than 5 mins) cubes in oil 7-10 mins, or until browned on all sides, stirring frequently. Add soy sauce and cook 2 mins, or until pan is almost dry. Transfer tempeh to a paper-towel-lined plate.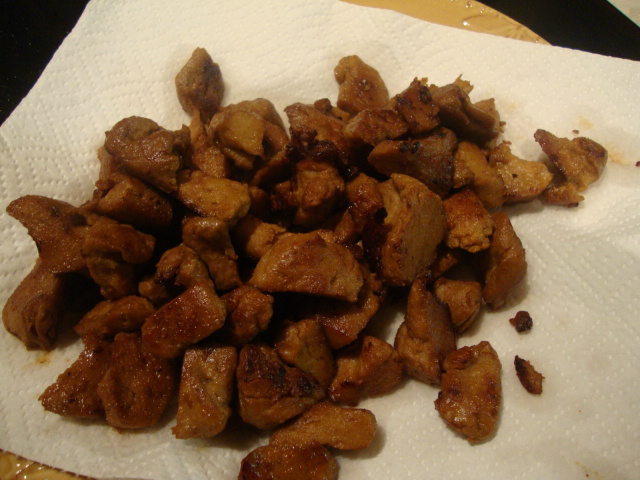 Add remaining 2 Tbs oil and mushrooms to pan, and sprinkle with salt to taste, if desired. Saute 10 mins or until browned and slightly caramelized, stirring occasionally. Reduce heat to medium-low and stir in flour. Cook 1-2 mins or until flour begins to brown, stirring constantly. Increase heat to medium-high, add lager and mustard, and bring to a boil. Reduce heat to medium-low. Simmer 15 mins, or until the sauce thickens. Stir in tempeh; simmer 5 mins more. Serve sprinkled with green onions.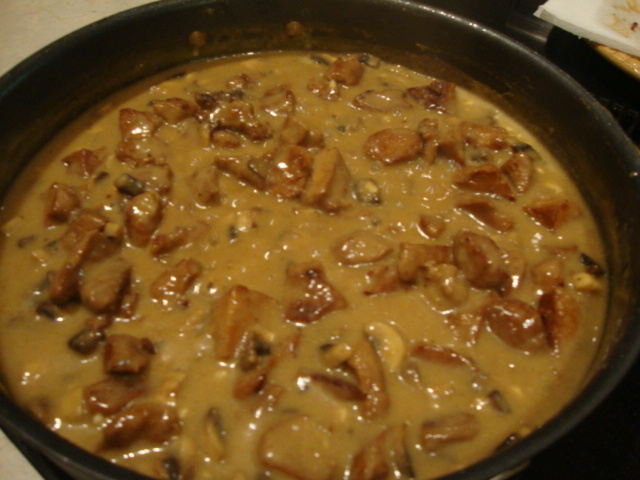 NOTE: The recipe suggests that for a sweeter take on the sauce, stir in 1 Tbs agave nectar with the mustard and use use just 1-1/2 C of lager plus 1 cup of water.
Enjoy!