Vegan MoFo, Day 9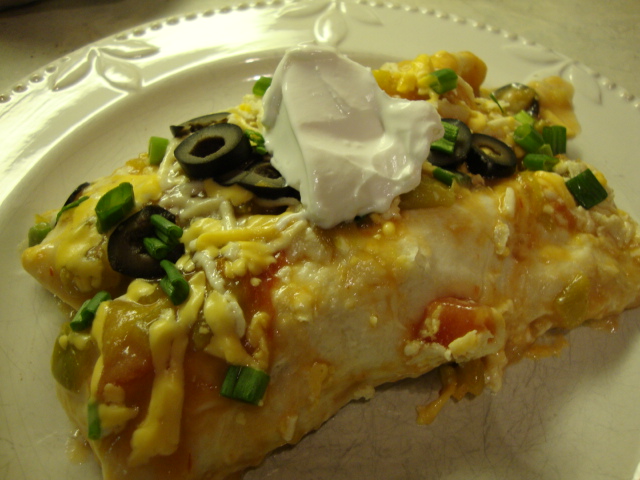 That's right, I had to throw in a Field Roast Mexican Chipotle sausage link—I had a lonely one in the fridge, and these are enchiladas, after all. It was the piece de resistance. This recipe is based on one my sister used to make all the time, but with *gasp* chicken and *gasp* again, half-and-half, so I was determined to veganize it. If you're not big on seitan, try some other filling options: ground meatless crumbles and refries, portobellos and onions, or bell peppers and zucchini. Either way, I think you're love the creaminess and cheezyness of this classic dish.
INGREDIENTS:
2 pkgs. seitan, beef or chicken style, chopped into 1″ pieces (or other filling of choice)
1 Field Roast sausage link, Mexican Chipotle flavor, crumbled
1-4oz can diced green chilies
1 C Tofutti sour cream
1/8 C almond milk
1 C  fresh cilantro
1 C black olives, sliced
3 green onions, sliced (white and greens parts)
1-1/2 C vegan cheddar and/or vegan Monterrey Jack cheese, shredded, divided
2-16oz jars of 505 Green Chili sauce, choose your level of hotness
11 flour tortillas (I know, I tried to make it an even number, but it just didn't happen)
DIRECTIONS:
Preheat oven to 350. In a medium bowl, combine seitan, Field Roast, chilies, cilantro, sour cream, almond milk, and 1/2 C of the cheese. Pour 1/2 of on jar of the green chili sauce on the bottom of a 15″ baking pan. Spread evenly. Fill each tortilla with about 3-4 tablespoons of the seitan mixture and fold over to make a burrito.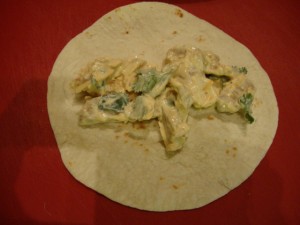 Lay folded side down.
Sprinkle a little cheese on the enchiladas, then layer rest of green chili sauce on top–spread evenly. Sprinkle rest of cheese on top, then layer on green onions and olives.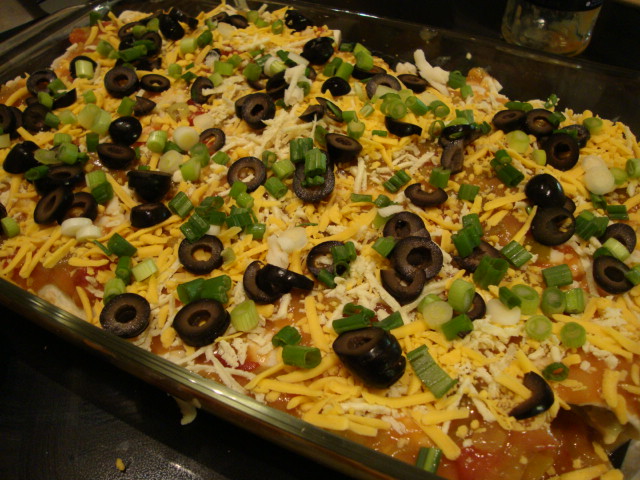 Cover and bake for 30 minutes, then enjoy!