It's the morning of day 5 of my Reboot and I feel great, especially since I'm even down 5 pounds! I definitely don't feel as weak and tired as the last few days, not as hungry either. Mentally, I feel clearer and less foggy–able to concentrate longer. Last night we went and saw Harry Potter and we usually go for some popcorn . . . I know, terrible (btw, did you know (according to the latest VegNews mag) that a large movie popcorn–without butter–is 1,050 calories?!) Anyway, the boys finished a vat of popcorn before the movie even started, but I wasn't tempted to eat any. Wow. That never happens! I'm determined to continue this reboot through Sunday and after that, I plan on making a lot of changes, such as no alcohol, little oil, little gluten, and very little processed foods. That's the goal at least.
Yesterday, I had a class at the NCW and then worked in the studio for the afternoon, so I needed to come prepared. With salty snacks and soda in the fridge just ten feet from me, I had to arm myself with good food. I made a salad, packed some jicama, yellow bell peppers, and mushrooms and dipped them in dressing. The dressing recipes are from the JointheReboot site. Having both dressings changes things up—it's great so that you don't get sick of one.
Ginger-Honey (Agave)-Soy Dressing  and  Agave-Mustard Dressing
Ginger-Agave-Soy Dressing
INGREDIENTS:
2 Tbsp. Minced Fresh Ginger
2 Tbsp. Minced Fresh Garlic
2 Tbsp. Raw Honey (I used agave)
4 Tbsp. Nama Shoyu or Tamari
4 Tbsp. Olive Oil
Combine all ingredients in a shaker.
Mustard-Agave Dressing
INGREDIENTS:
1/4 cup Cider Vinegar
2 Tbsp. Rice Vinegar
1 Tbsp. Extra Virgin Olive Oil
1 Tbsp. Agave Nectar
1 Tbsp. Honey (I used agave)
1 Tbsp. Dijon Mustard
1/4 Tbsp. Sea or Celtic salt
1/8 Tbsp. coarsely Ground Black Pepper
Combine all ingredients in a shaker.
For dinner, I made sweet potato "fries" also from the Reboot site. They were delicious!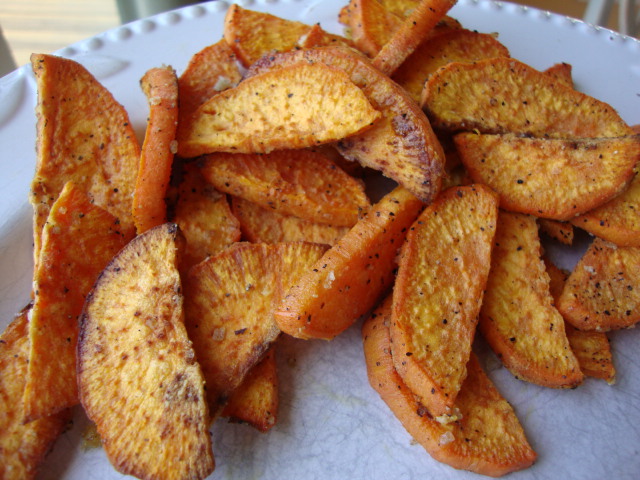 INGREDIENTS:
1 large sweet potato, peeled, cut into sticks or crescents
1 tsp olive oil
A couple pinches of sea salt
A couple pinches of black pepper
A couple pinches of cumin
DIRECTIONS:
Preheat oven to 425. Combine the sweet potatoes with the rest of the ingredients and coat well.
Layer onto a baking sheet lined with parchment paper or foil. Bake for 25-30 minutes.
I also made lettuce wraps: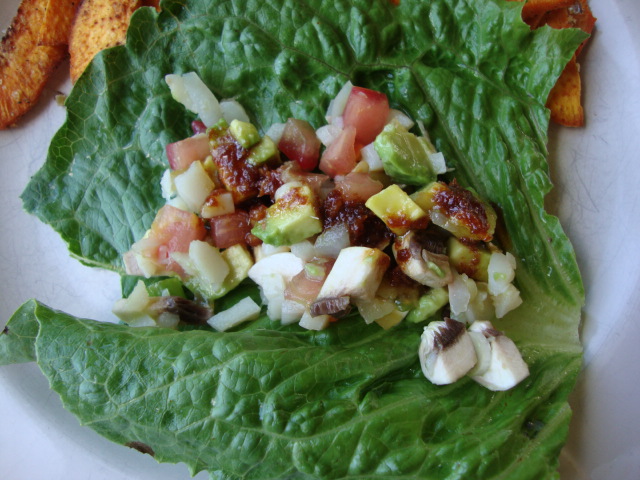 INGREDIENTS:
1 can water chestnuts, drained and chopped
5-6 mushrooms, diced
1 avocado, diced
1/2 a large tomato, diced
2 Tbs diced green chilies
3 scallions, sliced
Large lettuce leaves
Ginger-Agave-Soy Dressing
Optional: fresh mint, basil, or cilantro
Combine all the veggies and top the lettuce leaves with a couple of spoonfuls of them. Drizzle with the Ginger dressing. So good!
So this morning . . . I find that fruit smoothies are the easiest way to start the day. I blended up a mango, 1/2 a cup of fresh cherries (I removed the pits first) and about a cup of water. Awesome.
So, I'll keep going and continue to try different recipes. I'll keep you posted on my progress—thanks for traveling along with me!