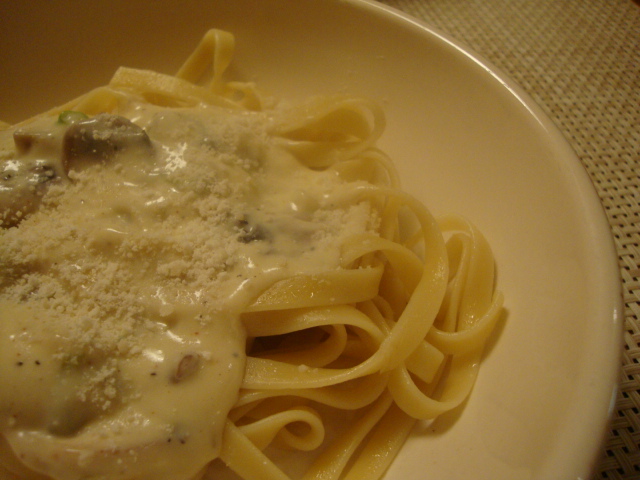 This comes from my friend over at Tried and Tasted Recipes Even though the original recipe isn't vegan, it was super easy to veganize–and so delicious! I of course, added 1/3 C of Tofutti sour cream for extra creaminess and mushrooms and green onions and she added peas and carrots (another great variety).
INGREDIENTS
8 ounces fettuccine, uncooked
1 1/4 cups fat-free reduced-sodium vegetable broth
4 teaspoons flour
1/3 cup Tofutti cream cheese
3 tablespoons Rice brand parmesan cheese
1/4 teaspoon ground nutmeg
1/8 teaspoon pepper
1/4 C nutritional yeast (optional)
1/3 C Tofutti sour cream (optional)
5 mushrooms, sliced (optional)
2 green onions, sliced (optional)
Handful of frozen peas and carrots (optional)
DIRECTIONS
Cook pasta according to package instructions. At this time, I sauteed the mushrooms and green onions in a small skillet.
Meanwhile, combine broth and flour in medium saucepan over medium heat. Stir in cream cheese spread, 2 Tbsp. of the Parmesan cheese, the nutmeg and pepper; cook 2 min., stirring constantly with wire whisk until mixture boils and thickens. I had trouble getting the sauce to thicken, so I added a tiny bit cornstarch/water mixture and presto! It thickened immediately. If using, add nutritional yeast and stir to combine. I then removed it from the heat and stirred in the sour cream.
Drain pasta. Toss with sauce (and veggies, if using) Sprinkle with remaining Parmesan cheese and parsley.
I served this with leftover salad from the previous night and some fabulous olive bread!
Serves 4.
Enjoy