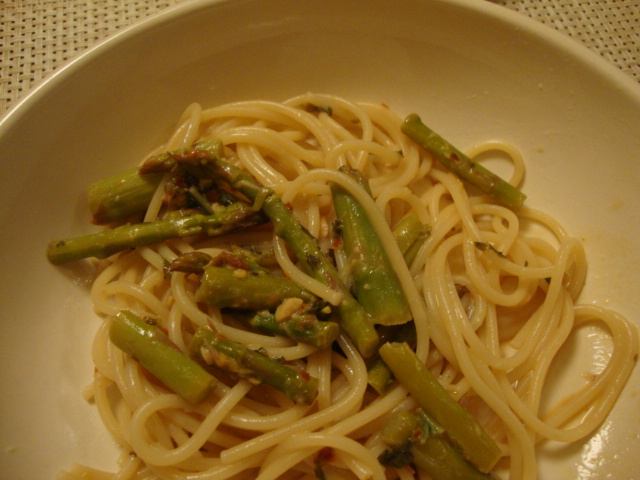 Chances are, you already have the ingredients for this light and easy meal. You can also add your favorite other veggies like broccoli, tomatoes or mushrooms. It's a pretty versatile meal; just customize to suit your veggie tastes. It's also a breeze to make, so you'll have time to throw together a salad and maybe even some garlic toasts.
INGREDIENTS:
1-2 Tbs olive oil
2 tsp minced garlic
1/2 C chopped fresh parsley
3/4 C coarsely chopped fresh basil
1/2 C white wine
1/2 C lemon juice
1/4 C soy milk
1 to 1-1/2 tsp red pepper flakes
1 bunch asparagus, chopped into 2″ pieces
8-oz spaghetti
DIRECTIONS:
Steam the asparagus–about 15 mins. Cook pasta according to package instructions.  Heat the olive oil in a medium skillet and add the garlic, parsley and red pepper and cook for 3-4 mins. Add the steamed asparagus and saute for another 3 mins . Add the white wine and lemon juice–simmer until about 1/2 of the juices are cooked off. Stir in the soy milk and cook for 1 min. Stir in basil and cook a few minutes more.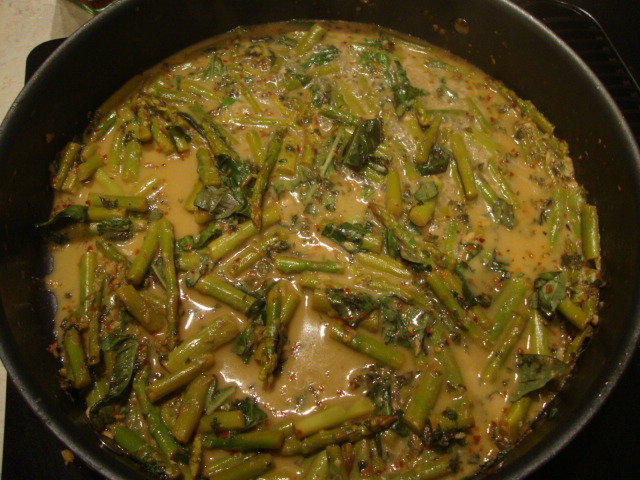 Toss with the pasta and if desired, top with vegan Parmesan cheese and enjoy!