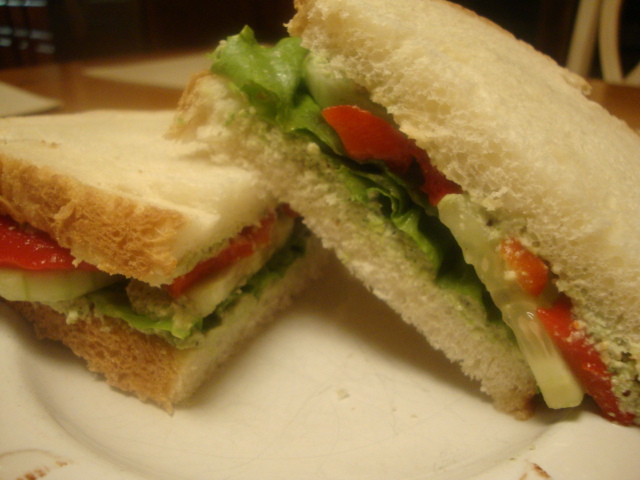 I always love a good sandwich and this is a great one from Vegetarian Times. The recipe calls for arugula, but I've never been a big fan, so I switched it out with romaine lettuce. Between the pate and the roasted red peppers, this lunch is full of flavor! I think the pate would be great served on toasts for an appetizers as well.
INGREDIENTS:
1-1/4 C frozen shelled edamame, thawed
1/2 C walnuts
1/3 C mint leaves, packed
1 green onion, chopped
1/2 tsp salt
3 Tbs lemon juice
8 slices whole grain bread (I used sourdough)
2 C arugula
4 jarred roasted red peppers, drained
2 small cucumbers, thinly sliced
DIRECTIONS:
Puree edamame, walnuts, mint, green onion, and salt in a food processor until finely chopped. With the motor running, add lemon juice and 3 Tbs water. Process until smooth. Spread each of 4 bread slices with 1/3 C pate. Add 1/2 C arugula, 1 roasted red pepper, and cucumbers to each. Top with remaining bread slices. Enjoy!