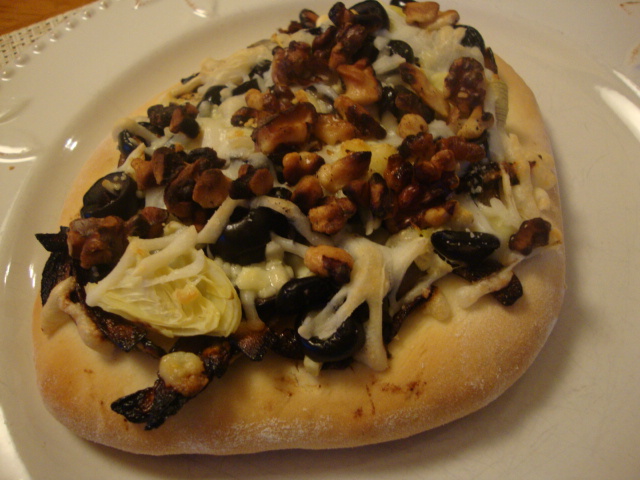 You can easily make your own dough or use a prepackaged kind, but those typically have egg or milk in them. I have a very basic recipe that I use when I don't have a lot of time, but if you're in a pinch and don't mind a tiny trace of milk, Jiffy makes a good pizza dough mix. When the weather is warm, we love to throw these on the grill.
INGREDIENTS:
Dough:
2 1/2 C flour
1 C hot tap water
2 Tbs quick, dry-active yeast
1/4 tsp salt
1/2 tsp dried rosemary (optional)
The Rest:
Rice mozzarella cheese
1 onion, sliced
black olives
artichoke hearts, diced
3/4 C walnuts, chopped and toasted
1/4 C balsamic vinegar
1-2 Tbs olive oil
DIRECTIONS:
Preheat oven to 375.
Combine all dough ingredients and let rise for about an hour. Punch down and knead for 5 minutes.
Caramelize the onions in olive oil and balsamic vinegar–it will take about 10 mins. In the meantime, toast the walnuts in a dry skillet, about 5-7 mins on medium heat.
Divide dough into 4 small sections, roll out each one to about 6″ in diameter. Butter up a large cookie sheet or pizza pan and place the rolled out pieces on the pan. Stick each piece with a fork several times and bake for 4 mins.
Then layer on the toppings. I start with a tiny bit of rice mozzarella, onions, olives, artichokes, more cheese, then sprinkle with walnuts. Bake 12-15 mins.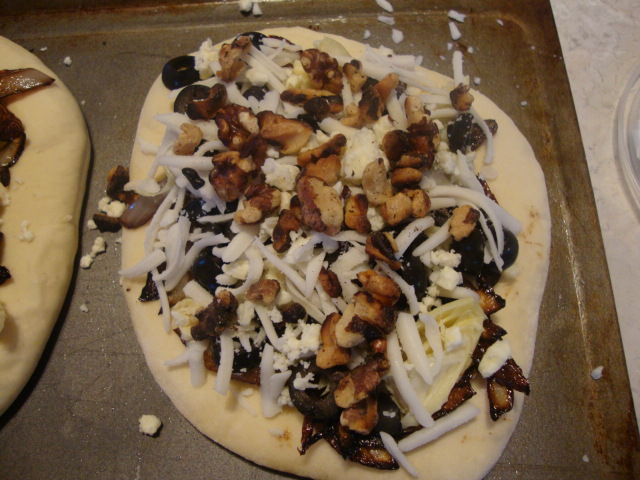 I then like to drizzle a little balsamic vinegar on top before devouring! Enjoy!