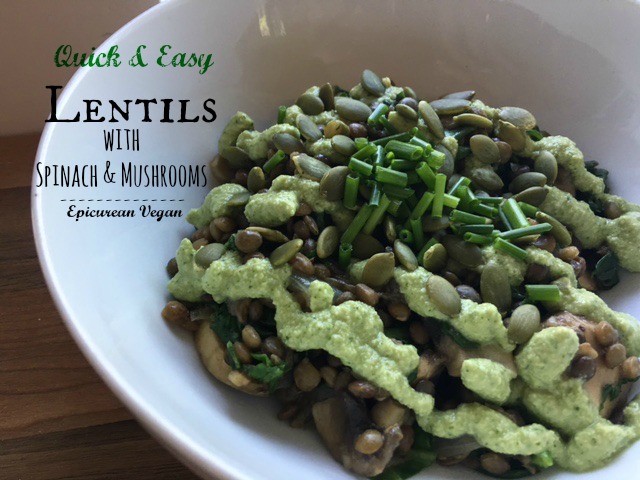 As much as I love to cook, there are times when I want to spend as little time in the kitchen preparing a meal as possible. We're busy—we've got places to go, things to do, people to see! And I'm guessing you're the same way. Unfortunately, the Standard American Diet (SAD) has allowed us to spend practically no time in the kitchen preparing healthy meals, but rather digging into a greasy bag or a plastic container of some deli salad that's been sitting all day.
Thankfully, I've discovered these ready-to-eat lentils from Trader Joe's.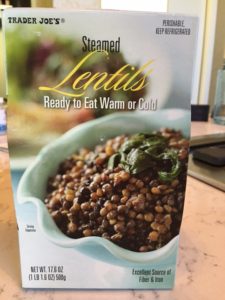 I think I paid $2.99 for this 1 lb 1.6-oz package that contains 5, 1/2 cup servings. First, let's talk figures: We're looking at 8 grams of fiber, 9 grams of protein, and 20% of your daily intake of iron—and that's just in half a cup! Lentils contain no fat or cholesterol either. Even though lentils are high in carbs, that's okay because whole grains gives us the slow and steady release of glucose that our bodies need to keep going. Plus, in case you haven't heard . . . fiber is awesome. It helps control your weight because it adds volume to foods without a lot of calories so you feel fuller longer. It also helps stabilizes blood sugar so you don't go from satisfied to ravenous in a matter of two hours.
Okay, are you convinced? Good.
Anyway, I threw this together in about 20 minutes. We had been out of town, so the fridge contents were sparse, but I was able to scrounge up some items.  I also had some leftover Cilantro-Cashew Sauce in the freezer that I defrosted in some hot water. I sauteed some onion, mushrooms, and spinach, then topped these bowls with some pepitas and fresh chives. Check out THIS LIST of other sauces you could easily whip up in no time.



INGREDIENTS:
1 pkg. Trader Joe's Ready-to-Eat lentils (in the produce section)
2 cloves garlic, minced
1 tsp olive oil
1 small onion, diced
2-3 C mushrooms, sliced
3-4 C fresh spinach, chopped
Salt and pepper
Juice from half a lime
Pepitas
Fresh chives, chopped
Sauce of your choice (see above)
DIRECTIONS:
In a large skillet, heat the olive oil and add the garlic; saute for 2 minutes over medium heat. Add the onion and cook 5-7 minutes, or until they soften and begin to brown. Add the mushrooms and cook 3-4 minutes. In the meantime, heat the lentils by making 3 slits in the bag and cooking for 3 minutes on high in the microwave. Then add them to the skillet and mix in well. Add the spinach and cook until it begins to wilt.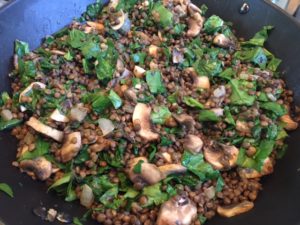 Season with salt and pepper, then add the lime juice. Stir to combine. Serve in bowls and top with pepitas, chives and sauce. Enjoy!