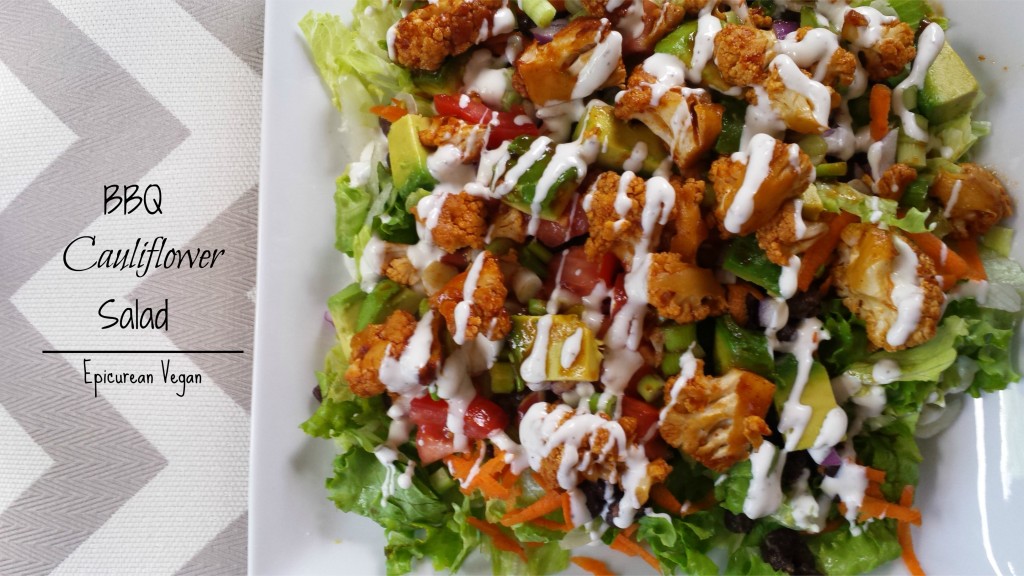 I never used to like cauliflower, mostly because I never really knew a tasty way to prepare it. Then, I discovered it makes great "chicken wings." So why not "chicken wing" salad? This is salad is no joke. It's also easier than you might think to make. The cauliflower takes very little time to prepare and the rest is chop-chop.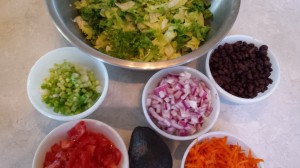 I used OrganicVille BBQ sauce and Follow Your Heart Vegan Ranch Dressing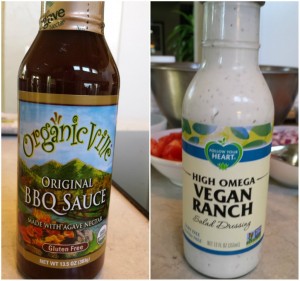 Pre-roasted cauliflower . . .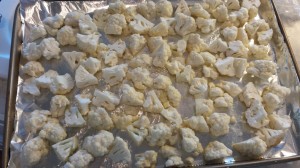 BBQ Cauliflower Salad
Ingredients
1 head of cauliflower florets
6-7 oz BBQ sauce (I used half of a 13.5 oz bottle)
1 15 oz can black beans, drained and rinsed
¼ tsp garlic powder
¼ tsp salt
⅛ tsp black pepper
⅛ tsp cayenne
½ tsp cumin
1 tsp lime juice
6 C lettuce, chopped
1 C red onion, diced
2 avocados, peeled, pitted and diced
2 carrots, grated
1 tomato, diced
1 C green onion, sliced
Vegan ranch dressing
Optional ingredients: cilantro, vegan cheese, corn
Directions
To prepare the cauliflower, preheat oven to 350.
Line a large baking sheet with foil. Place the cauliflower florets on the baking sheet. I tried to keep the cauliflower pieces around the same size so that they cook evenly. Bake for 8-10 minutes, or until they begin to soften.
Pour the BBQ sauce over the cauliflower and stir well to coat. Bake another 10 minutes.
In a small bowl, combine the black beans with the garlic powder, salt, pepper, cayenne, cumin and lime juice.
To assemble, start with a bed of lettuce, then add the beans. Top with the rest of the veggies and drizzle on some vegan ranch dressing. Enjoy!