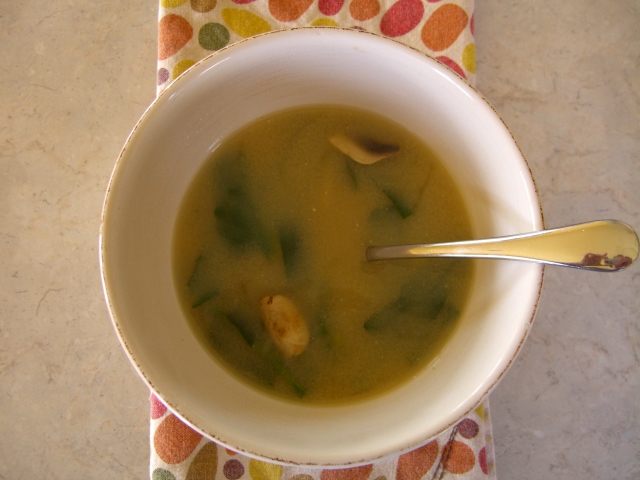 This soup has all my favorite ingredients! Mushrooms, spinach, tofu, green onion….It's a very light soup that would go great with half a sandwich and is tasty, tasty, tasty! Plus, with prep and cook time, it was ready in about 25 minutes. This is great soothing soup–it's the new chicken soup. Add or substitute your favorite ingredients like celery, leeks or shredded carrot.
INGREDIENTS:
6 C water
1 1/2 C baby spinach leaves, cut into thin strips
1/2 C thinly sliced mushrooms
3 Tbs minced scallions (about 3 large green onions)
1 Tbs Tamari or other soy sauce
1/3 C mellow white miso paste
4 oz extra firm silken tofu, drained and cut into 1/2″ dice
DIRECTIONS:
Place the water in a large pot and bring to a boil over high heat. Add the spinach, mushrooms, scallions, and tamari. Reduce heat to medium and simmer until the vegetables soften, about 3-6 mins. Reduce the heat to low. Place 1/4 cup of the soup mixture in a small bowl and add the miso, blending well. Stir the mixture back into the soup and add the tofu and simmer for 2 minutes, being careful not to boil. Serve hot. Serves 4. Enjoy!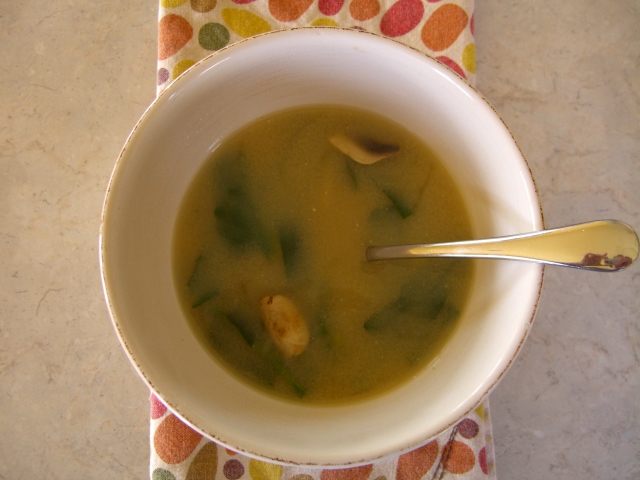 Recipe source: Vegan Planet