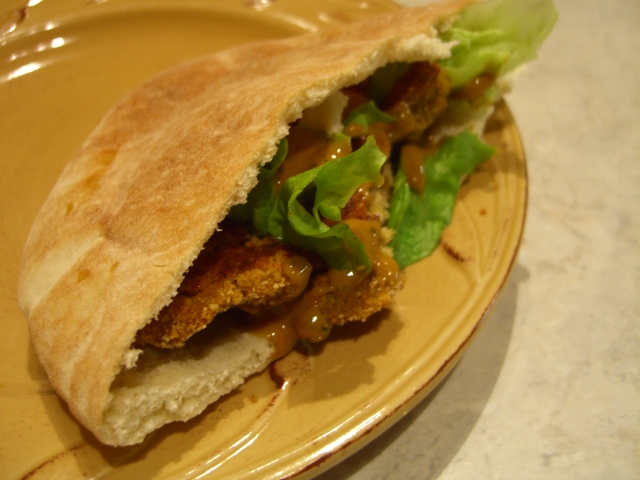 These require a little bit of (easy) prep work and they're well worth it! I also think they'd taste great as the next day's cold lunch.
INGREDIENTS:
Burgers:
1/2 C chopped red onion
1/2 seeded and chopped green bell pepper
2 garlic cloves
2 tsp peeled and minced fresh ginger
1/2 C unsalted dry-roasted peanuts
8 oz extra-firm tofu, drained and mashed (I recommend squeezing all the water out, too)
3 Tbs smooth peanut butter
2 Tbs chopped fresh Thai basil or cilantro leaves
2 Tbs tamari or dark soy sauce
1/2 tsp Asian chili paste
Salt
1/2 C dry bread crumbs (I had to use about a cup)
flour tortillas or pita bread
Shredded romaine lettuce
Spicy Peanut Sauce:
1/2 C smooth natural peanut butter
1 Tbs minced garlic
1/4 C tamari or other soy sauce
1/4 C water, or more as needed
1 Tbs rice vinegar
1 tsp Asian chili paste
1 tsp sugar
2 Tbs chopped fresh cilantro
DIRECTIONS:
Preheat oven to 350. In a food processor, combine the onion, bell pepper, garlic, ginger and peanuts. Pulse to blend, leaving some texture. Add the tofu, peanut butter, Thai basil or cilantro, tamari, chili paste and salt to taste and pulse until mixture is well combined. Shape the the mixture into 4 large or 8 small patties (I advise going for the smaller patties–they are much easier to handle because they will fall apart if too big) and coat evenly with the bread crumbs. (Here, I recommend shaping the patty with hands and leave in your hand and thoroughly sprinkle with bread crumbs, then flip to other hand and sprinkle the other side with bread crumbs). Arrange on a lightly oiled baking sheet and bake turning once, until browned on both sides, 25-30 mins. (15 mins on each side was just about right. This is where you'll be glad you did small patties because they're hard to keep together if they're too big). While these are baking, make the peanut sauce: In a small bowl or food processor, combine peanut butter, garlic, tamari, water, vinegar, chili paste, and sugar until well blended. Taste and adjust seasonings. Add more water if the sauce is too thick. (Use at once or refrigerate until ready to use). Stir in the cilantro just before using. Will keep for 4-5 days. It makes 1 cup, but I doubled it since I'll use it on baked tofu, tempe, steamed veggies and even sandwiches.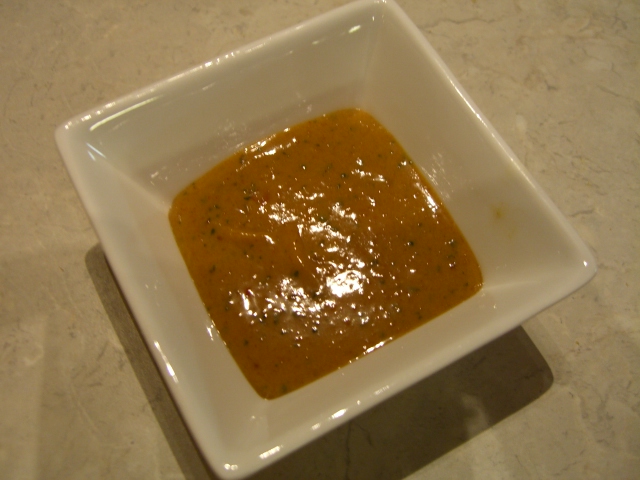 Okay…to assemble cut the burgers in halves or thirds, if necessary, so that they roll up easily. Place them end to end on the lower third of the tortillas. Top with the lettuce and drizzle with the peanut sauce (it goes a long way, so you don't need a ton) and roll up. Serves 4. Serve immediately and enjoy!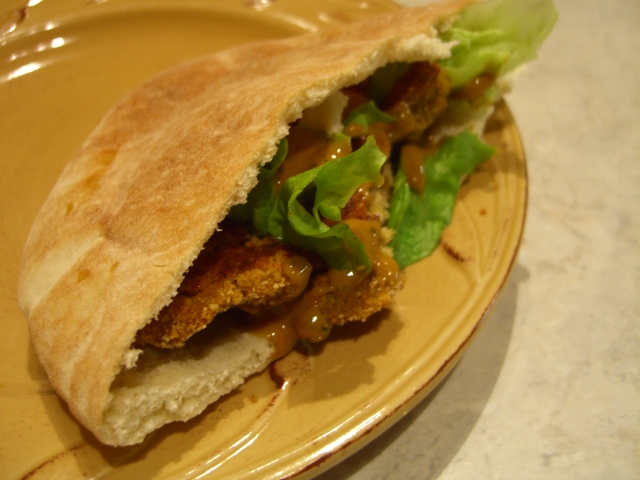 Recipe source: Vegan Planet