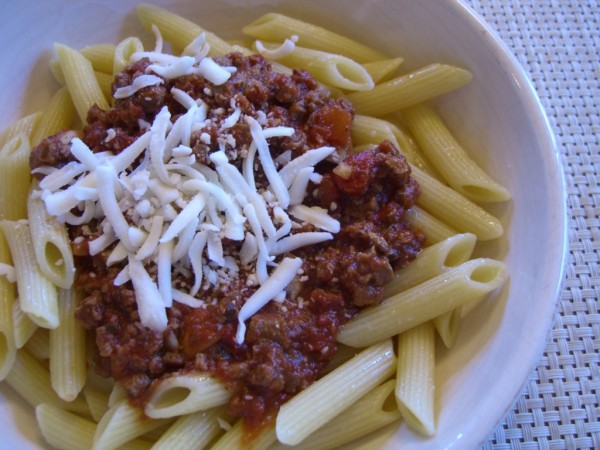 It really doesn't get much easier than this, especially when you're short on time to make dinner. It was my night to host writer's group, so I needed something quick to whip up. I used Boca Crumbles, but Field Roast makes an Italian "sausage" that I think would work nicely as well.
INGREDIENTS:
14-16oz pasta, cooked
1 jar spaghetti or marinara sauce
1 bag Boca Meatless Crumbles (use as much as you want–depending on how "meaty" you want it)
Vegan mozzarella, shredded
Optional: 6-8 mushrooms, sliced
DIRECTIONS:
I added the frozen  Boca Crumbles directing into the pan with the sauce, warming them together. I also added some sliced mushrooms and simmered everything for about 10-15 minutes. Top pasta with the sauce and cheese and you're done! This is a great combination of carbohydrates and protein and perfect for the night before a hike or activity when you need some extra umph. Even for my morning run, I tend to go further, longer. Never a bad thing. Enjoy!