Vegan MoFo, Day 21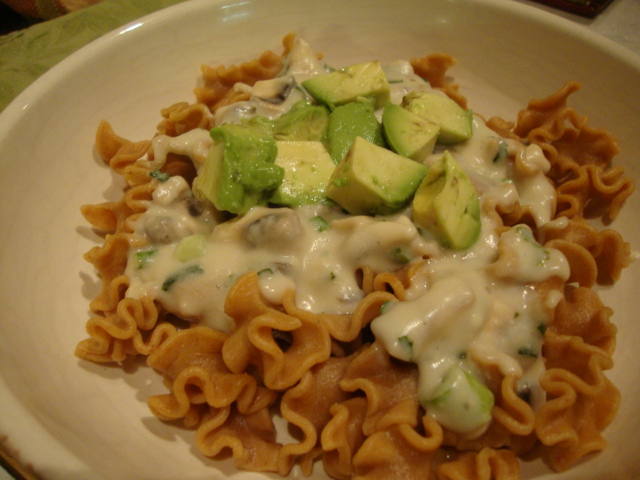 I picked up some Pappardelle's Whole Wheat Chipotle Lime pasta and since it has a bit of kick, I figured a cream sauce would be ideal to go with it. I also had an avocado on-the-verge of being tossed, so it all came together beautifully!
INGREDIENTS:
8-oz Chipotle Lime pasta
2 tsp garlic, minced
2 Tbs Earth Balance margarine
2 Tbs flour
1 C almond milk
2 Tbs Vegan Parmesan cheese
1 tsp lime juice, plus a little more for thinning, if needed
1/2 C Tofutti sour cream
2 green onions, sliced (white and green parts)
1/3 C fresh cilantro, chopped
5-6 mushrooms, diced
1 avocado, diced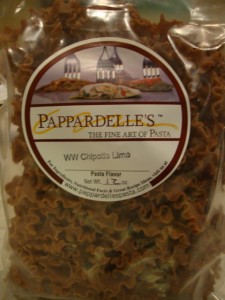 DIRECTIONS:
Cook pasta 10-12 minutes, or until al dente. Meanwhile, in a large saucepan, heat margarine and garlic. Whisk in the flour. Once the flour is thoroughly combined, whisk in the almond milk, then the sour cream and Parmesan. Stir in the lime juice, mushrooms, cilantro, and green onions. Add more lime juice, if needed.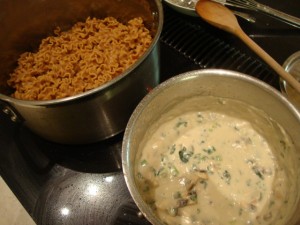 Ladle the sauce over single servings of pasta and top with the diced avocado. Enjoy!