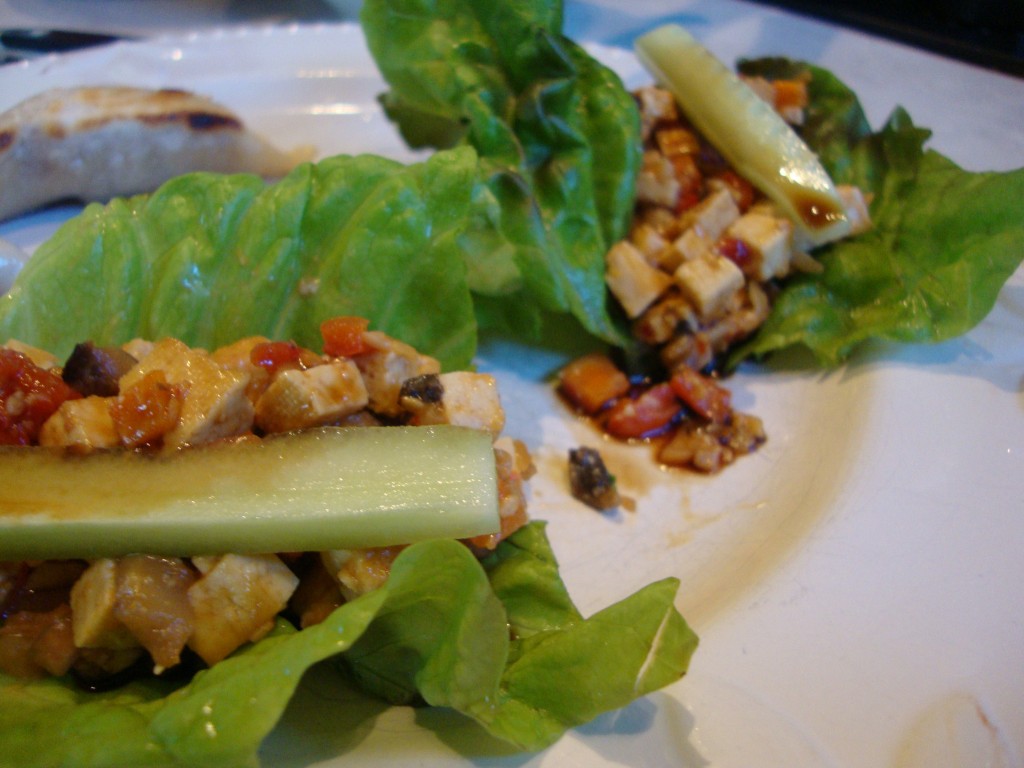 This meal reminds me of Thanksgiving—lots of prep and then devoured in ten minutes! Not that the prep time took all day–more like 20 minutes, just lots of chopping. The recipe is from The Vegan Table cookbook, but I made a few minor alterations and added some ingredients. Despite the prep work, I'll make these again and again.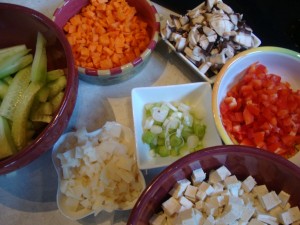 INGREDIENTS:
4 Tbs water, divided
2 Tbs minced garlic
1 Tbs finely grated or minced ginger
1 red bell pepper, seeded and finely chopped (I used 1/2 of one)
1 large carrot, peeled and finely chopped
1 pkg (16-oz) extra-firm tofu (I used just a 14-oz pkg)
1 Tbs chili paste
2 Tbs light brown sugar
2 Tbs light miso paste
2 tsp sesame seeds
10 Boston bibb or butter lettuce leaves, rinsed and patted dry
10 basil leaves (I accidentally left these out)
2 small cucumbers, peeled and julienned (I found that one was plenty)
Optional ingredients:
1 can bamboo shoots, chopped
4 green onions, chopped
5 mushrooms, diced (these also make up for the 2 ounces of tofu I didn't use)
Drizzle sauce:
1/2 C soy sauce
1-2 Tbs rice vinegar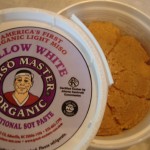 Light miso paste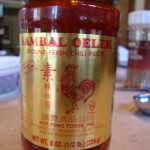 Chili paste
DIRECTIONS:
Heat 2 tablespoons of water in a saute pan over medium heat. Add garlic and ginger, and cook for 2 minutes, until they softened. Add red pepper and carrot and cook another minute. This is where I added the bamboo shoots. Meanwhile, crumble the tofu in a separate bowl until pretty small–like bread crumbs (I diced it up ). Add to pan and cook for 10 minutes, thoroughly combining with vegetables (this is also where I added the mushrooms and green onions).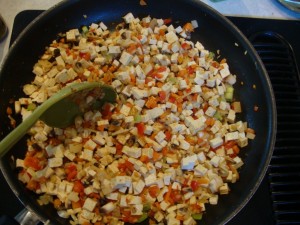 Add chili paste and stir to combine. To make sauce (not the drizzle sauce) place brown sugar and remaining 2 tablespoons of water in a small saucepan and dissolve over low-medium heat. Remove from heat and stir in miso paste and sesame seeds. Add to tofu mixture and combine well.
To make sauce: combine soy sauce and rice vinegar. To make wraps: trim edges of lettuce leaves to make them uniformly circular. Add a basil leaf and a julienned cucumber to each "cup", add tofu mixture and drizzle with soy sauce/rice vinegar sauce. Enjoy!