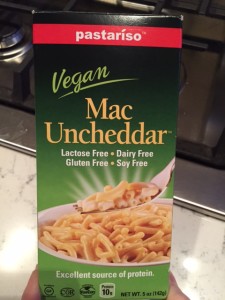 I recently got the chance to try out a new boxed vegan mac and "cheese." This one is from Pastariso Foods and not only is it vegan, but it's gluten-free and soy-free as well. Unlike the "real" mac and cheese varieties, this one isn't full of freaky ingredients: White and brown rice flour, pea protein powder, organic maltodextrin, sunflower oil powder IP, sea salt, organic corn starch, fructooligosaccharides, citric acid, paprika extract.
Sometimes trying a new vegan product is like blindly eating food while backpacking through another country; it can be a little scary. You just never know. But vegan products are getting better and better-tasting these days, and I have to say, this stuff is pretty dang good. The Husband, who dislikes almost every vegan cheese there is, really, really liked this. We agreed that the sauce is fantastic—it doesn't taste rubbery, plastic-y, or "fake."
Because the noodles are gluten-free, I did find them a little grainy-feeling at first. They're rice noodles, which have that kind of texture, and because I rarely eat gluten-free pasta, it struck me as odd at first. However, the sauce made up for it. Plus, the noodles are a good size—they cook up like a regular boxed mac and cheese noodle.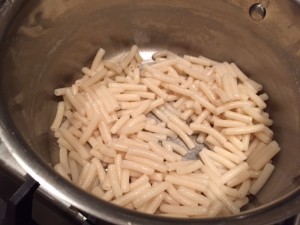 The package is only 5-oz, which seemed smaller than most, but it made for a nice little side dish. 2-ounces will run you 258 calories, 2 grams of fat (no saturated or trans fat), give you 190mg of potassium, 50 grams of carbs, 243 grams of sodium, and 10 grams of protein. When you compare it to regular Kraft mac and cheese, the calories are roughly the same, as is the protein and carbs, but the sodium is over twice as much with Kraft; more fat with Kraft; and 10 grams of cholesterol, compared to no cholesterol with Pastariso. I should point out, however, that Kraft's serving size is about 20 grams more. All in all, if you're going to feed your kids boxed mac and cheese, whether you're vegan or not, this is a healthier choice.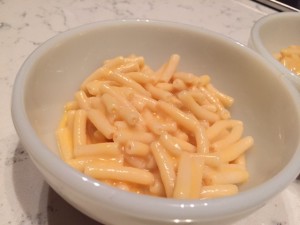 You can find Pastariso Vegan Mac Uncheddar at Vegan Essentials ($3.79) and will be available at Sprouts later this month. I would definitely buy this product and I recommend you give it a try!