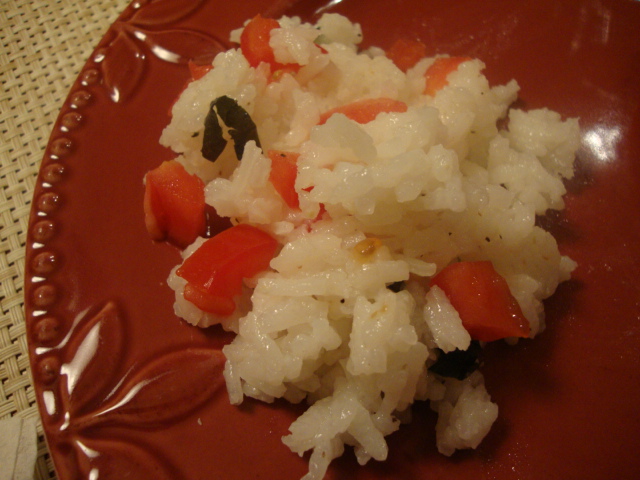 This is a fast and easy side dish from The kind Diet that is very flavorful. For variety, I sometimes omit the basil and add grated ginger root instead. This also makes a light, refreshing lunch or snack. I really like the Arborio rice (risotto rice)–it's a great change from regular white rice.
INGREDIENTS:
1 C Arborio rice
2 Tbs extra-virgin olive oil
3 Tbs fresh lemon juice
3 pinches of fine sea salt
2 pinches ground black pepper
1/2 C (or as much as you want) tomato, diced
2 Tbs chopped fresh basil
DIRECTIONS:
Place the unrinsed rice in a saucepan with 3 cups of water. Bring to a boil, reduce heat, cover and simmer 10-15 minutes or until mostly tender but still a little firm in the center of the grain. Drain off any excess water and transfer rice to a mixing bowl. Add the olive oil, lemon juice (grated ginger if using), salt and pepper. Mix well and addd the tomatoes and sprinkle basil (if using) on top. Toss to combine and serve. Makes about 4 servings. Enjoy!
Recipe source: The Kind Diet