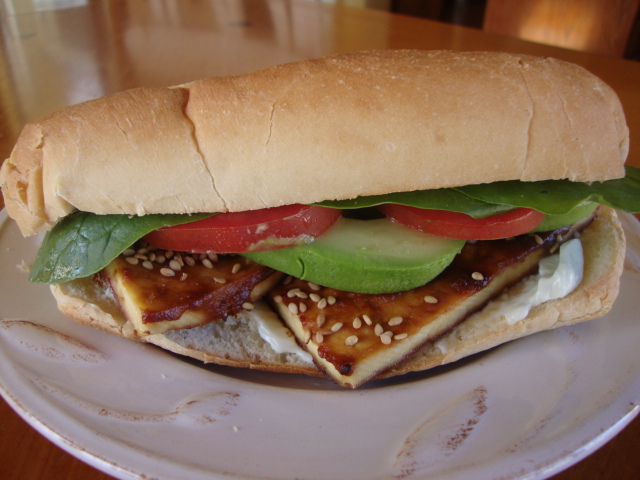 I really love marinated tofu sandwiches. They're easy to make, will last the whole week and it's so simple to create your own marinades. I first came across this idea from Lauren Ulm of Vegan Yum Yum and her recipe for Smoky Miso Tofu Sandwiches. After making her recipe several times, I decided to changes things up and come up with my own marinade using some of my favorite ingredients.
INGREDIENTS:
1 lb extra-firm tofu
2-1/2 Tbs red miso
2 Tbs tamari
1/2 tsp toasted sesame oil
1/2 tsp minced garlic
1 Tbs brown rice syrup
About 1/8 C toasted sesame seeds
Avocado slices
Tomato slices
Spinach
Veganaise
Your favorite sandwich bread (I like to toast it)
DIRECTIONS:
Preheat oven to 400. Drain and press tofu. Meanwhile whisk together miso, tamari, sesame oil, garlic, and brown rice syrup. It makes about a cup. For a kick, add 1/8-1/4 tsp of cayenne to the marinade. Or try smoked paprika.
Slice pressed tofu into 13-18 slices. I wanted the tofu to be a little thick, so I got 13 slices out of this one. Line a baking sheet with foil. Brush one side of a tofu slice with the marinade and place it on the pan (marinaded side down) then brush the top. Repeat until all slices are covered. With 13 slices, I could layer it on pretty thick. Sprinkle with toasted sesame seeds and bake for about 15-20 mins, depending on how thick of slices you have. 17 mins worked great for mine.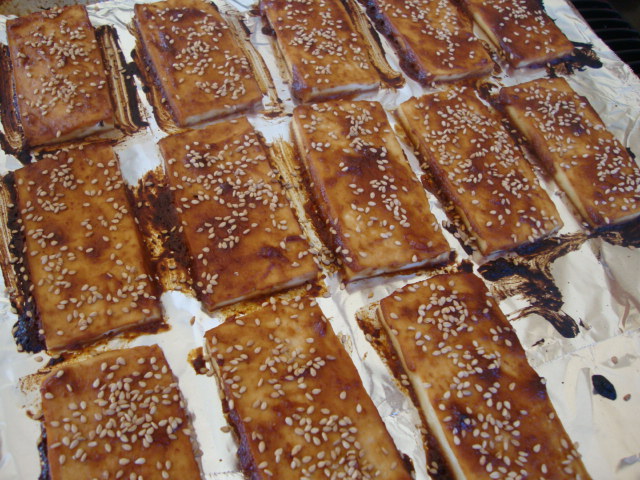 Add your favorite sandwich toppings. I toasted the bread, used some Veganaise, avocado slices, tomato slices and spinach. Try roasted red peppers, vegan cheese, sprouts, cucumbers, bell pepper…the list goes on.
Besides great for sandwiches, these baked tofu slices could be diced up for salads (green or pasta), tossed over cooked rice, or steamed vegetables or just to munch on.   Enjoy!