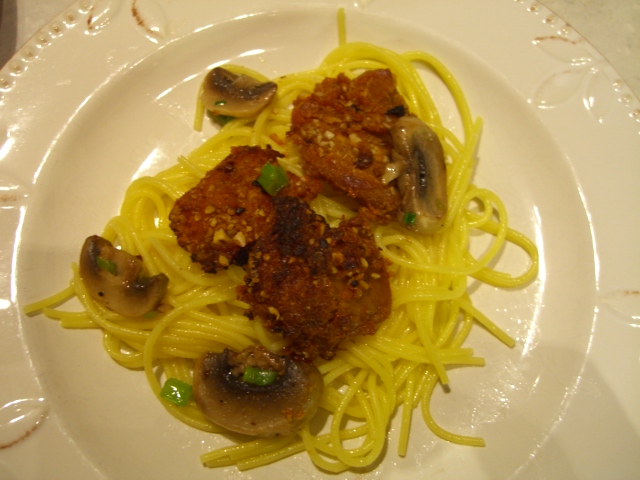 This comes from Alicia Silverstone's cookbook, The Kind Diet and it is wonderful! The chicken-style seitan is perfect for this recipe and I have found that not only is it yummy served over pasta or rice, but try dipping them in marinara sauce or your favorite vegan dressing for a heavy appetizer.
INGREDIENTS:
Marinade:
3/4 C tomato paste
1/4 C umeboshi vinegar (Asian section of most health food stores like, Whole Foods)
1/4 C dry red wine
1/2 C orange juice
1/4 C shoyu (Like a soy sauce found in the Asian section of most health food stores, like Whole Foods)
1/4 C minced garlic
1/4 C chopped fresh parsley
2 Tbs minced fresh tarragon or 1 Tbs dried
2 Tbs minced fresh rosemary
The rest:
8-10 pieces of seitan-about a pound (I used 2 packages)
2 C flour (I would use just 1 to 1 1/2 cups–2 is a bit too much)
1/2 tsp fine sea salt
1/2 tsp ground black pepper
1 C ground pecans (a must)!
2 Tbs finely chopped fresh rosemary
1/4 C olive oil
I added about 8-10 sliced mushrooms and 3/4 C sliced green onion. I sauteed them after I cooked all the seitan and while the seitan was keeping warm in the oven.
DIRECTIONS:
Combine the tomato paste, vinegar, wine, orange juice, shoyu, garlic, parsley, tarragon and rosemary in a blender or food processor and blend until smooth. Transfer the marinade to a shallow dish (a zip lock doesn't work well) add the seitan and turn to coat on all sides. Cover the dish and marinate in the fridge for at least 3 hours to overnight. When ready to serve, mix together flour, salt, pepper, pecans and rosemary in a shallow bowl. Dredge the marinaded seitan in the flour mixture. Heat the oil (don't use Pam cooking spray–gotta use enough oil for frying) and add the seitan to the pan. Saute until golden brown on both sides, 2-3 minutes per side. Serve immediately. I usually preheat the oven to 275-300 and keep the cooked pieces warm as I make them. I then serve them over cooked spaghetti or rice. I like to use Arborio rice (risotto). The pecans have such a wonderful flavor and honestly, the final product tastes so much like chicken that it's hard to tell a difference! After cooking the seitan, I drained the oil and then added sliced mushrooms and sliced green onions and sauted them a bit. I then added the cooked seitan to the pan and served over pasta. It was so delicious! Enjoy!